Remember When
Here are some of the people and events that have made the University what it is today.
Send your memories and anecdotes (max 300 words plus a high resolution photograph) to alumni@lancaster.ac.uk.
We'll include as many as we can.
Barry Lucas - From Freshers to Pink Floyd
Barry Lucas took on the role of Lonsdale College Social Sec and on graduating in 1971, became the first 'Social Manager' for the University. Here are his first impressions of Lancaster and how he took on that enviable role of booking some of the greatest names in rock music.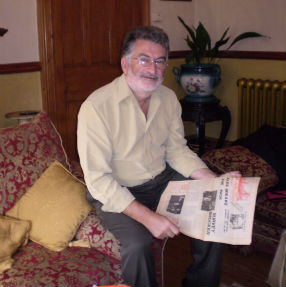 Read more
Nineteen sixty eight – was it really nearly 50 years ago? Doesn't time fly when you're having fun!
Eighteen years old, suitcase, rucksack, falling out onto Lancaster's desolate station. It was raining of course; Intro Week, always has. Lancaster weather has been nothing if not predictable over the last 50 years. 'Welcome to Lancaster' – rain, 'Exams are here' – 80 degrees Costa Cauldron. I had just had to return early from our first family holiday abroad – Sir Charles Carter would not agree to postpone Freshers for a week. I actually asked him, honest – so one day Spanish sun, the next Lancashire rain.
Lancaster station was like a scene from one of those WW2 evacuee films – it seemed like hundreds of lost teenagers, suitcases, carrier bags, bewildered faces, all it needed was name tags and gas mask boxes around our necks.
'Lonsdale College – anybody in Lonsdale?' called out two worldly-looking second years. 'Yes'. 'Off Campus?' 'Yes'. 'Where?' 'South Road.' 'Never heard of it. Bus for campus!' Never heard of it, where on earth had those unfeeling monsters in University House stuck me? South Road – I could picture it, some desolate track leading to a Cold Comfort Farm, miles to the south of Lancaster. 'University – what University?'
Got a cab, thank heavens he's at least heard of it. A 10/- ride via Morecambe, Carnforth, Scafell Pike and Galgate and I ended up at South Road (I later discovered it was a 10 minute walk from the railway station).
Twelve of us in digs, I was to share a room with somebody. What would he be like? Would I like his nasty habits? Could he tolerate mine? Suddenly a great mountain of hair appeared, carrying a guitar and looking like one of those psychedelic pictures if the Fab Four. What a cool dude, man! Dare I talk to him? Then a voice came up the stairs, 'I've packed ten pairs of clean Y fronts, so make sure you change them regularly.' One red-faced dude wasn't quite so cool for a couple of days.
My room-mate, Pete Foster, a cyclist from Gloucester, was in Lonsdale, so off we went to campus. I had to see my moral tutor, somebody in the maths department called O'Doom – this boded well. Perhaps a career in the civil service didn't seem that bad after all. That first evening was the Lonsdale Freshers Disco in the refectory. A bit of bread and cheese, a sausage roll and as many pieces of pork pie as you could eat or smuggle in your pockets for later. Oh and a glass of revolting sweet white wine. The disco started and from nowhere came hoards of praying mantis disguised as third years. They descended to have the pick of the innocent young freshers. After an hour of peering over or through the ranks I left frustrated and went back to the digs. Within half an hour, all twelve of us had returned with the same disillusioned talk. To the pub! On what is now the Pointer roundabout once stood a terrace with the Boundary pub in it. In 1968 it was a typical northern drinking place, long thin and spartan. After getting twelve pints we all went into this room, the lounge, and settled down into armchairs and settees thinking what a pleasant change it was from the spit and sawdust next door. 'Would you lads mind going back to the pub as my wife wants to watch the TV now?' Twelve rather embarrassed freshers left his front room and returned to the bar.
In those days third years had what residence there was on campus; all first years were out in Lancaster and Morecambe. I still think this was the best arrangement as you immediately had 10-12 friends in your digs, soon widening your circle by their friends, so there was little chance of your room becoming a lonely prison cell as can happen on campus.
Digs provided breakfast during the week, adding tea (we're in the North) at the weekend. Our landlady lived in the basement, but cooking 12 fry-ups on a Sunday morning for one hungover body soon got her down. Brilliantly, we suggested that she leave breakfast out and we would cook our own when we eventually got up. Fine, except the temptation of a fry-up at 2am after a gallon or so of Mitchells was just too attractive. After three Saturday nights of being awakened by the intoxicating smell of eggs frying without any oil, the experiment ended.
Socials came and went. I met John Allan, who had a bit of hair then and worked as a young lad in Lonsdale refectory. Jimmy Glen was behind Lonsdale bar – you knew you were certain of Hell,Fire and Damnation if you didn't drink up for him because of his direct line upstairs, and of course, Mrs Salmon who was truly terrifying until you got to know her!
JCR meetings, bribed with free beer and wine to make them quorate – until something dramatic happened when Rene Desirens, Controller of Catering, was dragged before a JCR meeting to be told to remove a queuing barrier he had put up. He was told his territory ended at the counter and the JCR belonged to the students. If he didn't remove it, ropes would be attached tomorrow and it would be pulled down. The next day it was removed. Now that's a novel idea: the University belonging to students – oh dear, that'll never catch on!
The Black Issue of Caroline – sex, drugs and rock an' roll- Lancaster splattered across every national newspaper. I was a hero when I went home at the end of that first year. How had I survived the debauchery all my envious friends and my worried parents wanted to know?
In 1970 I was elected Lonsdale Social Secretary and my friend Gaz Taylor was Bowland's and we decided to pool our money, drag in Furness JCR as silent partner and, rather than spend £300 on a band, spend £1000! The Great Hall had just opened and the JCRs took turns promoting in it. We booked The Who for £1050 and our two Presidents went ballistic. Maurice Hubbard broke down the social office door to stop us, but we had just managed to get the contract in the post. Hauled before two executives, we retaliated by adding Quintessence for £250 and then Amazing Blondel for £100. Charging £1, it was Lancaster's first sell-out event with a black market in tickets selling for £6. The Who were staying in the Royal King's Arms and after the show took sarnies and drinks to the students at an all-night Anti-Vietnam vigil in Market Square.
Still we were told it couldn't be done again. Lancaster couldn't attract major artistes or audiences – Maurice Hubbard even had a long article in John O'Gaunt saying so. In reply we booked Free, Wishbone Ash, Black Sabbath, Pentangle, T- Rex, Incredible String Band and Pink Floyd amongst many others. They all sold out. Lonsdale and Bowland JCRs had launched Lancaster as the main college venue throughout the next 15 years.
After Maurice's presidential year, one of several activities he got involved in was the setting up and running of Pink Custard Light Show. On a Floyd photo you can just make out all the bed sheets we nicked from Lonsdale annexe residence rooms to act as a screen for his exploding projected ink blobs. Later he was spotted doing the Great Hall show for Traffic and Elton John and was booked to do a show in Preston for Genesis – they billed Lonsdale's light show as Traffic Lights!
Incidents and characters include Charlie Billington and Jeff Peake, legendary drinkers, but also good sportsmen for both the University and JCR Tennison and C. Beccles, a shy West Indian who just happened to mention that he used to bowl for Barbados. I remember fielding at first slip to him for Lonsdale on the 'mat' thinking that if I took a catch it wouldn't matter because where I was it would already be a six! Then there was the year Lonsdale fielded seven of the University's first XI in its college cricket team – most of the other colleges didn't even bother to turn up. Then there was the 'Craig Affair' when Panorama did a whole hour on Lancaster University. The occupation – Sir Charles brought us all tea in the first Senate chamber occupation on the grounds that it was our university and we could be there if we wanted to be, providing we cleaned up afterwards, which we dutifully did. The rent strikes – great fun - Her Majesty and the toad in Alexandra Square, stunts and craziness and Al Gordon, simply the best President in Lonsdale and then the Union(last seen working for Kerry Packer in Sydney….)
But the years roll on, people leave, though hopefully many will return for another trip down Memory Lane….
For photos of some of the bands who played Lancaster visit Lancaster Concerts (photos courtesy of Geoff Campbell- Sociology, 1976, County - who himself went on to become Entertainments Manager at Exeter University after leaving Lancaster!)