Remember When
Here are some of the people and events that have made the University what it is today.
Send your memories and anecdotes (max 300 words plus a high resolution photograph) to alumni@lancaster.ac.uk.
We'll include as many as we can.
The Face of the Flyer
Rosalind Forster - nee Shorter - (Theatre Studies with French, 1997, Grizedale) recalls meeting up with the mystery man from the flyers, Gary Forster (Computer Science with Software Engineering, 1996, County) and how they loved Lancaster so much they stayed here!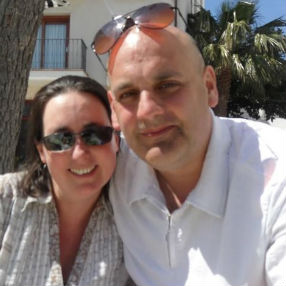 Read more
The pillars along the 'Spine' of the university have traditionally been plastered with flyers exhorting students to join societies; attend performances; sign up to activities...but each layer of flyers is quickly outstripped by the next layer, an ever-changing programme of adverts and information.

Early in 1996, my friend and I started noticing, as we walked from the prison-like cells of Grizedale along the Spine to our lectures (mugs of tea in hand), a series of posters, each along similar lines: photos of a skinny, rather geeky boy – flexing his muscles on the beach, performing a magic show, hanging out with his siblings - together with the legend HAPPY 21st BIRTHDAY GARY!
The strange thing about these posters was that they didn't ever seem to get torn down or covered over. Gary and his 21st followed us for weeks, perhaps months, as we went to and from our lectures; burned into our subconscious.
Six months later, the omnipresent Gary and I met in real life, at a karate practice session which I was really too hungover to be attending. Thankfully he was no longer the geeky boy but a rather handsome young man....
And eighteen years later, he's still in my life – we're married with two children – so I guess his enduring posters were a sign of things to come!
We both really enjoyed our time at Lancaster University and have many more stories to tell.
Gary's degree in Computer Science and Software Engineering has led to a directorship of a large E-Commerce business which is based in Lancaster and works closely with local tradesmen, but supplies to customers nationwide and abroad. My degree in Theatre Studies with French, and MA in Research and Consultancy have led to a very enjoyable career in Tourism Marketing – promoting this wonderful district to everyone who wants to visit, live, work and study in Lancaster!