Remember When
Here are some of the people and events that have made the University what it is today.
Send your memories and anecdotes (max 300 words plus a high resolution photograph) to alumni@lancaster.ac.uk.
We'll include as many as we can.
A Landmark Development - The Ruskin Library
The Ruskin library stands at the top of University Drive and is one of the University's most recognisable buildings. It provides a home for the world's greatest collection of the work of the nineteenth-century social reformer and critic, John Ruskin, making it accessible to the general public for the first time.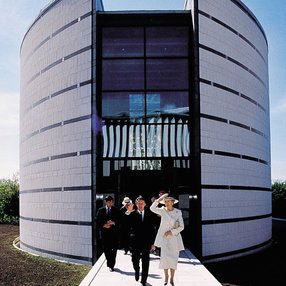 Read more
The Whitehouse Collection of the works of John Ruskin (1819 to 1900) containing books, manuscripts, paintings and drawings, had been held in the Ruskin galleries at Bembridge School, Isle of Wight since the 1930s.
The school was not able to continue to house the collection, and Lord Lloyd Kilgerran, the chairman of the Ruskin Education Trust Limited, had given his support to a proposal that the collection could come to Bailrigg, closer to Brantwood on Lake Coniston, where Ruskin had lived for his last three decades.
The plans were for a building close to, but separate from, the Library. The outcome was the concept of a treasure box held at the core of a building, around which would be wrapped a reading room, public gallery space and offices.
The then ultra-modern building materials and techniques belie a range of historical features. A raised causeway leads to heavy doors which when opened revel a great bound box of Venetian manuscripts, books and photographs. Curving stairs on either side lead to two galleries which are linked at the centre by a walkway that also goes into a meeting room and looks down on a reading room.
The white façade and horizontal banding fit well against the backdrop of the Library's west window.
The building was opened by Princess Alexandra in 1998.
With thanks to Marion McClintock, Honorary University Archivist and Author of Shaping the Future – a history of Lancaster University, 1961-2011.