Remember When
Here are some of the people and events that have made the University what it is today.
Send your memories and anecdotes (max 300 words plus a high resolution photograph) to alumni@lancaster.ac.uk.
We'll include as many as we can.
Opening of Infolab in 2005
InfoLab21, known for its copper-clad walls and designed by Faulkner Brown Architects, was officially opened in February 2005 by the Secretary of State for Trade and Industry, Rt. Hon. Patricia Hewitt.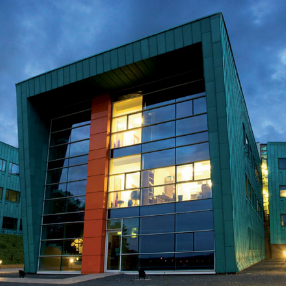 Read more
The building includes state-of-the-art computer facilities, plenty of office space and a glass atrium with self-cleaning windows. Nearly ten years on InfoLab21 is credited as being a world-class research, develop and business centre, as well as providing excellent facilities in order to network and communicate with international ICT companies such as Microsoft and BT Labs.
The design of the InfoLab21 has attracted the attention of all, once being described as an assertive building 'that you either love or hate.' The architecture has also been described as bold and modern, with extensive use of glass and a colour palette of weathered copper and orange. Originally, InfoLab21 was also intended to include Psychology. However, although much of the research in the Psychology Department is technologically advanced, it also focuses largely on the study of human subjects, especially children, and required a different scale of facilities, as well as an informal working atmosphere.
Infolab21 in its present day form houses the Knowledge Business Centre (KBC) and the School of Computing and Communications. During the conception of InfoLab21, it was agreed in a Senate of May 2005 that the building and the nature of its activities would link 'the international research in Computer and Communications Systems and the delivery experience and training capabilities of ISS to companies based in the KBC… It has challenging targets to meet in creating jobs, helping business, and delivering training, as well as in academic development.'
The School of Computing and Communications has developed a reputation for world-class research and teaching in computer science and communication systems and currently boasts a community of over 400 students, 40 academics and 120 researchers. The KBC was specifically developed to facilitate 'Knowledge Transfer and collaboration' to act as a link between businesses and InfoLab21 academics, engage with regional ICT clusters, support new opportunities and assist staff and students in creating high-tech start-ups or supporting other business opportunities.
(Photo by Paul Cooper Photography)