Remember When
Here are some of the people and events that have made the University what it is today.
Send your memories and anecdotes (max 300 words plus a high resolution photograph) to alumni@lancaster.ac.uk.
We'll include as many as we can.
Happy Non-Retirement for Marion McClintock
The first history of Lancaster University that Marion McClintock was asked to write in 1972 was as a junior administrative assistant, as a part solution to an embarrassing English department crisis. Her second, published in 2011, was as the university's former Academic Registrar and archivist - who had lived its history for four decades and knew it through and through.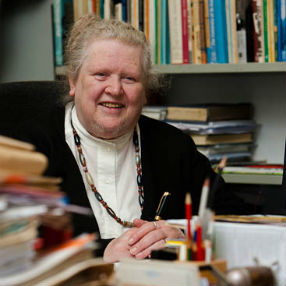 Read more
Now Honorary Archivist, Marion McClintock is nominally retired - as is her eminent physicist husband, Professor Peter McClintock - but both of them continue to contribute to the the university, whose success they have both spent most of their lives helping to shape.
In a career - starting in 1968 with an informal role tidying the Physics library and ending with her retirement after 18 years as Academic Registrar - the writing of her two books stand out for her as some of her most satisfying projects. Says McClintock: "I have often said that there was a fairy at my birth saying 'This girl will write', and another fairy too saying 'but not for herself'."
She is not given to dramatics, but she admits that the writing of the first history Quest for Innovation was unorthodox. As a recently-appointed Administrative Assistant in the English Department, she unwittingly found herself involved in a departmental dispute between two colleagues which became known as the David Craig Affair. Although she never totally understood why, she was told she must leave the English department. The book commission from the Vice-Chancellor was a way of giving her a new role. This was the moment McClintock took flight. As she recalls: "The Vice-Chancellor thought that I would write a pamphlet, but it took me 18 months and ended up being 400 pages long. I had never written a book before, but I am proud of it. I have it on my shelves and still sometimes think, when I look something up, 'that was rather well put'."
The sheer act of researching the book gave her an unparalleled advantage. The young Durham University graduate, who was only in Lancaster because of her husband, now had her own reasons to ask questions and request information in every department and layer of the hierarchy. She took the opportunity as a gift to shape her own career.
In the process she made links including her other work of helping to set up the Centre for North West Regional Studies from 1971, and increasing amounts of academic validation projects. She then spent a seven-year period (1980 to 1987) in the Management School, before moving full time into University House, as Secretary of the Senate for 19 years and of Council and Court for 16 each, as well as numerous other committees. This culminated in her appointment as Academic Registrar in 1994 until 2006, when she retired.
Writing the 300-page Shaping the Future, was a completely different process from the first history. Not only did she have an intimate knowledge of every aspect of the university by then, from the top down, but she had the benefit of her own archive to draw upon as well as her first volume as a guiding 'template'. "My big concern with this second book, was to give fair coverage to people and to present a lot of evidence rather than to come to conclusions, " she explains. "I was trying to write in a lively conversational style, with additional information signalled in more than 1,100 footnotes. It is bigger and more complex and has much more structure. I had a much more top-level view."
In her unflamboyant way, McClintock was a pioneer. She admits that when she and her husband arrived, for him to take up a temporary research post, it felt that way. She says: "There was a sense of the university having a brief window of opportunity to make choices, but that each time officers made one they were inevitably limiting their future choices, so that afterwards they would be modifying rather than creating." They had just spent two years at Duke University, North Carolina and she had worked in clerical roles at both Oxford and Cambridge, so she had an idea what a leading university should look like. They arrived on a sunny August Bank Holiday and were given a guest room in Bowland College. The next morning, the bursar brought a breakfast tray in person to their room - not something that would happen today.
Her fear had been that Lancaster would be a dark industrial place, but home was soon a flat with glorious views over the city and the sea. The couple's focus was straightaway on the university. At that time it had a mere 1,000 students (now the staff alone number more than 2,000 people), its current core Alexandra Square had only just ceased to be a building site and the library was more like a school version than the academic asset it became. No rules or protocols were in place, so she found herself being interviewed for her first lowly English department role by a powerful line-up of senior academics, including the then Head of French, Tom Lawrenson, who turned up in slippers, for reasons she never discovered.
Resourcefulness was vital as McClintock remembers being shown a bare room with a desk and being told to 'get on with it', without being told what 'it' was. She said: "So I just had to find out!" Everything became easier as the institution evolved to become not only much bigger and more complex, but also backed by a reputation for excellence in teaching and research. The new university attracted staff and students, who she describes as 'very special people, with strong personalities' and with a zest for experiment. Students were radical and often went on marches or on strike about some political issue. She finds the current breed of student much more sober - attracted by the success of a well-established and leading institution.
As well as her writing activities, McClintock values her years as Academic Registrar: "It was a position where I could help to shape things and I had a complete bird's eye view which allowed me to see all the parts and their personalities." Seeing the students around the campus has always been a joy to her, which continues in her retirement role at Lancaster University. She is consistently impressed by their competence, motivation and friendliness as she sees them about.
She sees the future for the university as bright as it is for many of the students: "Provided there is a good direction of travel and excellent people to run it, the way forward is clear."