Remember When
Here are some of the people and events that have made the University what it is today.
Send your memories and anecdotes (max 300 words plus a high resolution photograph) to alumni@lancaster.ac.uk.
We'll include as many as we can.
Top Honour for Top Gear Host
In July 2010, James May (Music, 1985, Pendle), presenter and journalist, was awarded an honorary degree. It was the first time he had returned to campus in many years and he took the opportunity to revisit some old haunts (including Pendle bar) and chat with current students.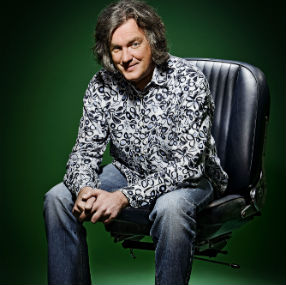 Read more
Returning to the Lancaster University campus after such a long absence gave me a bit of a shock, though largely because some of the bits most dear to me weren't there any more.
In particular, Pendle College, or at least Pendle in the form I knew it, which was where Grizedale now is, I think, and the new Pendle is where a field was. There you go: I could actually stand there and say 'I remember when this were all fields.' I must be really ancient.
Nostalgia aside, I'm not sure the loss of the old Pendle is such a tragedy. Students these days don't realise how lucky they are. I know there's a bit of an issue with loans and what have you, but I bet you can get two people in the same room. Back in my day if there were two people in a Pendle room and one of them wanted to turn over the page in a book, the other one had to go and stand in the corridor.
The bathrooms really should have been called 'ablutions blocks', or some other phrase that would be used in a corrective institution. The doors only filled half of the gaps they fitted in, and the showers were a bit communal to say the least. There was a widely held belief in my time that Pendle and Grizedale had been based on the design of a Swedish prison, but I don't think they were that good.
Elsewhere on the campus, there were more things that had been an endless vista of green and nervous sheep when I was a lad. I knew about the hotel, but I didn't know a model village from the industrial revolution had been built as well. Same thing up at the top end. County College used to be a terrifying pilgrimage of several days in the driving snow, braving bandits and bogs on the way, but now it's in the middle of a modern city. And what happened to the hitching post? It used to be just that – a post. Now it's a tourist attraction.
Then a sobering thought struck me. More time has passed between now and when I was a student than had passed between then and the place being built. Lancaster University was under 20 years old when I arrived with my box of Spam and my biro. It was still a modern marvel and looked like a futuristic space city plonked on a hilltop. That, in fact, is what I liked about the place when I came for an interview.
Walking up the spine, a lot of it came back to me. The road to Galgate may have changed out of all recognition – I couldn't find the chip shop any more – but the lecture rooms at Furness still had that faint smell of brick dust about them, which suffused me in equal measure with nostalgic longing and dormant Pavlovian terror at the thought of an unprepared seminar.
I think the campus must be at least twice as big now as it was in the mid-80s, but the spirit of the place feels the same. Remembering my ineptitude as an undergraduate - triggered by doorways, notice boards, the looming presence of the tower – I couldn't help wondering if the Senate hadn't been a bit hasty in making me a Doctor. Mind you, I'm chuffed to be one. I can use the title to intimidate my weak-kneed media rivals and, perhaps most importantly, the prefix 'Dr' lowers my car insurance premium slightly.
It's a great place, the Lancaster Campus; a true mirror of the times that have produced each part of it. As someone said in a famous film, I'll be back.