Campus Facilities
We have a number of major centres dedicated to working with businesses of all sizes. If you would like to know more about our office space or have a general enquiry about how you could collaborate with Lancaster University, please contact our Enterprise Support Team who will be happy to assist.
---
InfoLab21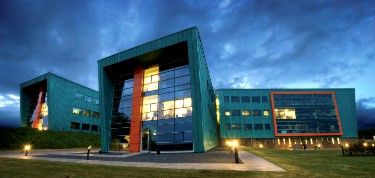 InfoLab21 is Lancaster University's world-class research, development and business centre in Information and Communication Technologies (ICT). It is a superbly equipped, high tech environment for academic research staff, research students and businesses.
Lancaster Environment Centre
Opened in 2007, Lancaster Environment Centre (LEC) is dedicated to environmental sector companies wishing to lease office space alongside our technical resources or wanting to engage in environmental research partnerships with Lancaster University. The centre also offers business incubation services and is a member of UKBI (UK Business Incubation).
Contact Business Co-Location Manager Helen Boulton to arrange a tour of our office space, hot desk, extensive state of the art research laboratories, glass houses and growth rooms, and meet the world-leading researchers and business partnerships team.
Lancaster University Conference Centre
Leveraging the wide range of event and accommodation facilities across the Lancaster University campus, the Conference Centre provides a flexible, diverse and customer driven service for event planning and delivery.