Unite with Business
The Unite with Business project offers small to medium sized businesses (SMEs) a business support programme, to increase business innovation, performance and productivity. It provides you with access to student and graduate talent at no cost to your business.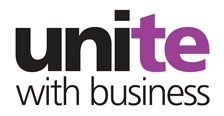 Business support is provided via graduates, final year undergraduates and postgraduate university students.
They will work within your business for a period of 20 days, to address a skills or resource shortage within your company.
This could be designing or re-designing a website, developing a communications or marketing strategy or even prototyping a new product.
Selection
The graduate or student will be sourced with your business needs as a priority.
We will ensure that they possessing the skills required to undertake the project.
Graduates, final year undergraduates and postgraduates may be selected from any university.
This helps ensure that we are able to find the best candidate to undertake the project.
Benefits
You will benefit from having the up-to-date skills, knowledge and enthusiasm a university student or graduate can bring to a small organisation.
This can have a positive impact on a strategic project of value to your business, such as new products, new markets, increased sales and new customers.

You have the option to keep the student or graduate on longer than the 20 day period supported by the project.
Thus you are able to explore the graduate employee marketplace on a low risk basis.
Eligibility
The project is open to applications from SME's based within the North West of England, excluding Merseyside.

NB The EC definition of an SME is:
An independent enterprises that are not more than 25% owned by another company/group
Has fewer than 250 employees
An an annual turnover not exceeding €50m (£34 million) or a balance-sheet total not exceeding €43m (£29 million)
Some sector exclusions may also apply under this programme.
Cost
This programme is fully funded, there is no cost to the business.
During the 20 day period the student or graduate's salary is paid via the project.
The placement hours can be spread flexibly over a period of several months where this meets the needs of your business.
This also allows students or graduates to fit the work round their study commitments.
Your commitment
The main commitment for your business will be one of time.
The success of this project will be measured by the financial and employment security benefits linked to the graduate or student undertaking the work within your business.
To enable these factors to be effectively measured your Unite with Business Adviser will need to make a series of monitoring visits over this period.
These visits will usually be at key milestones after completion of the project.
Applications
You can register an initial application of interest by contacting Daniel Knowles or Imran Adia at Lancaster University
Telephone: 01524 592752 or 592960
Or you can e-mail: unite@lancaster.ac.uk