Careers Fairs
Career Opportunities Fair including the voluntary / work experience sectors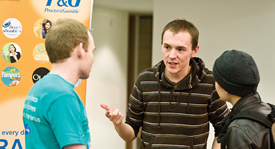 29th October 2014, 11.00am - 3.30pm
Career Opportunities Fair including voluntary / work experience opportunities.
Take a look at Careers Fair Brochure to see which employers / organisation attended in 2013.
Our Career Opportunities Fair is one of the best ways to find graduate appointments in your area of interest. It provides an excellent opportunity to meet potential employers face to face and market yourself to your chosen industry. Even if you haven't finished your course or are undertaking further study the fair is still worthwhile as a source of information
Whether you are looking for work experience, full-time graduate vacancies, internships or are merely interested in finding out more about career prospects in general, attending the Fair will help you to increase your awareness about career opportunities!
Visit the Careers Service stand on the day to find out more.