FLUX 500
Lancaster University has acquired the licence to run FLUX, the largest student business competition in the country.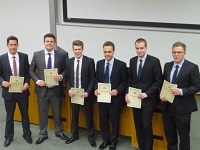 Congratulations to Plymouth - winners of FLUX 2014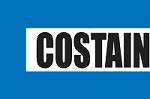 All of the judges from Costain praised the students for their enthusiastic approach and determination to complete the challenge.

Quality of the work and presentations from the students was first class.
The competition
FLUX attracts teams of students from UK universities who compete to solve a Business Challenge using Xing, a business tool developed by the Working Knowledge Group.
The business challenge is set by one of the competition's corporate sponsors.
Students have access to business advisers from other sponsors to help them develop, plan and present their strategy in response to business challenge.
A panel of business experts will judge and pick the winning team.
FLUX 2015
The national competition will be held on 23 and 24 March 2015.
The venue will be Lancaster University.
Get involved
Prices are unchanged from last year:
Student team (6 students) - £600 incl of VAT per team
University staff / Enterprise Champion supporting the student team (1 person) - free of charge
Additional university staff attending - £180 including VAT per person
The booking system is now open.
Book a place at FLUX 2015 and pay on-line.
For more information or to find out how you can be part of FLUX2015, contact Lyndsey Egerton:
T: +44 (1524) 592487
Battle of the Colleges
During the Michaelmas Term we run a 'Battle of the Colleges' to identify the student team who will represent Lancaster University.
To find out more about FLUX and how you can take part; book your place online at this information event.
Who was involved in FLUX 2014?
‌International construction and engineering group Costain set the challenge for students competing at FLUX 2014 which was held at Lancaster University.
Corporate sponsors for FLUX 2014 were:‌
‌Business mentors and judges supporting FLUX 2014 included:
Santander Bank
BAE Systems
FGH Security
Kingsway HR
Tarbun & Company
Foxcroft Roofing & Building
Penrillian
Nu Blue
Andi Lewis Consultancy
Snowball Consulting
Burton Fisher Financial Services
In addition to Lancaster University, other university teams at FLUX 2014 included:
Plymouth University
HULT International Business School
Swansea University
University of Central Lancashire
Bangor University
University of Bedfordshire
University of Cumbria
Manchester Metropolitan University
Newcastle University
Nottingham Trent University
University of the West of Scotland
Read more about the success of FLUX 2014 here.