Career Mentoring
Mentoring can make a big difference to your life and your future career prospects. Applications are now open for the academic year 2014/15. Complete the online application form at the bottom of this page by 24 June 2014.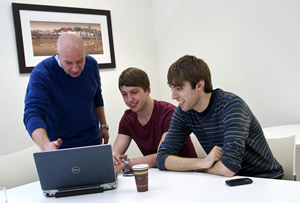 The Lancaster mentoring scheme gives you the opportunity to spend time with a working professional, getting an insight into what they do and how they got there. Designed for undergraduate students, the programme has been running since 2008 and has become progressively more popular each year. Mentoring will help you assess your career goals and get you thinking in different ways about how to reach them.
Eligibility
The programme is mainly aimed at first year undergraduates about to enter their second year. It is also available to any student on a degree programme who is currently enrolled at Lancaster University and has completed at least one year of study. You will need to be able to commit at least 16 hours in total during the mentoring period (November to May).
What makes a good mentee?
Openness to new ideas, suggestions and feedback.
Willingness to have a go and try out different things.
Commitment to self-development and achievement of career goals.
Ability to give and receive constructive and honest feedback.
Good organisation and time management.
Willingness to take the initiative, communicate needs, desires and expectations.
More information
For more information please refer to the Career Mentoring Guide for Mentees
If you would like to see what advice and guidance we give to mentors, please read Career Mentoring Scheme Mentor's Guide
How do I sign up?
To apply to become a mentee please complete this application form.
Student applications for the academic year 2014/15 will be accepted from 5th June - 24th June 2014.
The matching process takes place over the summer vacation.
You will be informed in late October by email if a successful match has been made.
As demand to take part in the mentoring programme is high, please ensure that you complete all parts of the application form and provide the required detail to help us complete the matching process.
Employers
If you are interested in becoming a mentor please read more about the scheme and working with Lancaster.
This page also includes a link to our online application form for prospective mentors.