"We both really want to travel and experience new places, and run our own business too; so we're going to try and do it and travel and work at the same time."
Henry Coggin, Furness College, BSc Hons Software Engineering, 2014 
Ellen Hedley, Furness College, BA Hons Film and Cultural Studies, 2014
Henry and Ellen are about to embark on an entrepreneurial journey; both metaphorically, and literally… In July 2017 they will set off in their camper van on an adventure around Europe, while working on their digital marketing startup, Vida Creative. Self professed digital nomads, the couple plan to work from their mobile home, and make the most of European hot desking facilities to communicate with their clients and complete digital marketing projects.
For a lot of people, setting up a business is already a big jump into the unknown. You're adding another level of uncertainty; why the moving around bit?

[Henry] We both work full time currently and we both really want to travel and experience new places which we can't do when we're working for other people. We've got a lot of friends who went away travelling and they'd work two, three jobs just to save up as much money as they could for 6 months in Australia or Thailand. They'd have an amazing time and then they'd have to work again to save enough money to get back out there. I could see us doing that, but we don't want to go travelling for a holiday. We want it to become our full time lifestyle. Working 9 – 5 is a mundane cycle; we're both passionate about what we do at work but the monotony of the routine gets us down.
[Ellen] I am actually really scared about it. I've had to confront my own fears about starting my own business. I've always wanted to be self employed but I thought I couldn't do it myself. Luckily Henry and I are not only partners in business, but in life. Henry is my boyfriend and he's set up his own business before.
[Henry] My biggest fear is the van getting robbed! It would be an absolute disaster. If it happens we'll have to deal with it…
 What lessons did you learn from your previous business, Henry?
 I actually ran a business while I was at University and with my previous business we were young and naive and we kept pretending to be something we weren't and said we could do all these things, but we couldn't. I've learned that it's good to be honest. We're going to create brands for people and we'll say the brand needs to reflect who you are, there's no point lying about it or pretending to be something you're not. When you speak to people and you're honest, you get a good reception, and it's nice to be honest.
Do you think that is what makes your business unique? Or is it your nomad status that will be your USP?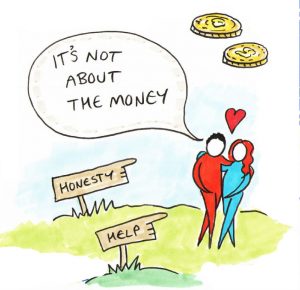 [Henry] It's funny, we've been asked that before. There are so many digital marketing companies, the market is huge, so I think there will always be space for us if our work is a high enough standard, whether or not we're still travelling.
A lot of people say "follow your dream, don't think of a plan B" but I think that's just nonsense; how can you not plan for things going wrong? We've said we might go for a month, if we fall out, hate each other, the business is going terrible and we say "why did we think we could live in a van", we'll just drive home! It sounds so risky what we're doing but it's not really. Hopefully it will be a sustainable thing for us and we're going to have less outgoings.
[Ellen] A lot of people create a business because they want to make a load of money, but neither of us are that way motivated. We're going to be making less money then we are now but we've got less outgoings and it's not about that for us. It's about the travelling and the work.
You've registered a business in the UK – how does that work when you're travelling around Europe?
We've registered the business in the UK and we'll pay UK tax but the rest we don't know about yet. We know about design, web and marketing stuff but the University are really going to help us out with the rest. They've already put us in touch with an accountant and said "take the help where you can". We've learnt that you're not going to be an expert in everything; you're just one person/two people.
How did you get support from the University?
[Henry] When we started Cogmo at Uni there were loads of other student entrepreneurs. Lots of people did really well and we worked with all of them but I think that's because we were cheap! It was good because there was a network. There were loads of places to get support; the Entrepreneurs society, the LUSU team and the Enterprise Team too – they were all connected and helped each other out.
[Ellen] Utilise the University, there are so many people here and we're still in touch with so many people from our student days so we can always go back to them and say, "Hi, we're doing this now". People outside of the University would kill to have so many opportunities and we're still milking it now!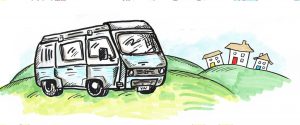 Check out Henry and Ellen's website here and their full illustration here. 
---
For more inspiration and stories of success and failure, return to the Startup Stories gallery.
You can also:
Search Inspire Me for news and articles from current students who are making things happen for themselves.
Sign up to the newsletter here to keep up to date with enterprise at Lancaster.
Get in touch and find out what we have to offer to support students, staff and alumni.
If you're a Lancaster alumnus with a story to share, or if you would like to express an interest in mentoring an entrepreneurial student, let us know here.