'Global domination, one burrito at a time.'
James Howard & James Short, Go Burrito
BA Hons Philosophy, 1997
If you're a fan of Lancaster's eatery Go Burrito you'll enjoy this startup story by James Howard and his university friend, burrito business partner and former Fylde student James Short. With a shared love of Burritos they explained their recipe for success on how they built their local brand and Lancaster's first burrito restaurant.
Where did the inspiration come from for Go Burrito?

[James Short] Unfortunately I didn't have the foresight to start early and get the help that was available at the time. Instead I went into the world of work for five or six years and hated most of it. It came to a head where I needed to do something and work on my own, be my own boss.  We didn't have many options, but I'd always dreamed about burritos.  When I was at university we used to get drunk and talk about global domination, one burrito at a time, and then ultimately I decided that there was no other option…I had to give it a go.  I was absolutely sure in the product that we had, I used to cook them at home, that kind of thing.  The problem was at the time I had a one year old, we'd just moved house, we were about to get married; the timing wasn't right but I don't think it ever will be, there's always going to be an excuse not to do it.
Do you think this determination and confidence in your product helped you to make the jump?
It's not just about getting advice, you've got to cipher through it all and then ultimately you've got to go with yourself and you've got to believe in yourself, believe in your idea, believe that you've thought through it and you know exactly what you're doing. I think determination and just being a bit cocky and being a bit arrogant but also really believing in what you're doing is a massive thing and if you don't have that, if you don't have that self-belief then I don't think you'd ever do it.
You mention that Go Burrito is more than just food, it's a brand too. Why is that important?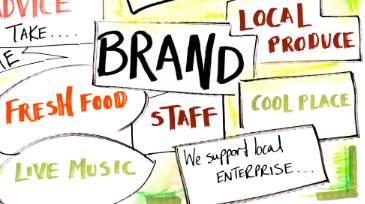 If someone else opened a burrito bar in Lancaster I think we'd smash them and it's because we're so embedded in the local community. Our brand is so strong in Lancaster that I think they'd be taking on a significant challenge. We've had that dream of going to Manchester and doing Go Burrito there. I'm confident that we could do something different there. We could make something distinct and it's not just about the food. There are food places on every corner but only some are successful. The ones that are successful have a core that stays true. It's one that customers associate with and that's the key importance of branding I think for a business like ours.
Go Burrito was a victim of Storm Desmond in 2015. What is your formula for getting through the tough times?
I think it's having people that support you and the other thing is that getting on really well is a massive part of how we've got through every single thing that we've done. It has been incredibly stressful, there have been times when you feel genuinely that it's going to break you in half and you've got to the point where you can't see what is going to happen next. But then you have a laugh about it with your best mate and crack on and the next day you start again.
You can see James Howard's LinkedIn profile here.
---
For more inspiration and stories of success and failure, return to the Startup Stories gallery.
You can also;
Search Inspire Me for news and articles from current students who are making things happen for themselves.
Sign up to the newsletter here to keep up to date with enterprise at Lancaster.
Get in touch and find out what we have to offer to support students, staff and alumni.
If you're a Lancaster alumnus with a story to share, or if you would like to express an interest in mentoring an entrepreneurial student, let us know here.