You can listen to Jon's story by clicking below:
'If you've got an idea try and go for it! You've got to accept failure as part of the route to success.'
Jon Price, Complete Care Shop Ltd
Bowland College, BA Hons Independent Studies, 1993
A former President of the Lancaster District Chamber of Commerce, Jon has 10 years experience of running an online marketing agency before he started the hugely successful web based business, Complete Care Ltd, one of the UK's largest online healthcare retailers.
It's safe to say you've had a varied career. Have you always aspired to be an entrepreneur?
If you watch Star Wars you might believe in destiny, but I don't. I was earning good money in the Oxford Journal and it was a good job but I was working very, very hard and it just struck me, 'Why am I doing this for somebody else?' I used to look at my bosses and think, 'What are those guys doing for their money when I'm doing all the work out here?'  Now I'm the guy in the office that looks at all the money and I know that people are on my shop floor saying, 'What does he do all day?'!  So I can feel the spin from where I was, and how they feel now.  But if an opportunity arises you take it.
So how did you make the transition from working for someone else to becoming your own boss?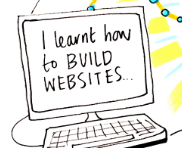 I rang up my friend Alex and I said I wanted to set up my own business and he said I should go and work for him in the mornings. I recommend this if you want to set up your own business, get a part time job, it's a safety net.  So I worked for him in the mornings and lived above his shop and started to get my own business going.
Your first business was the victim of the recession but your current business is going from strength to strength. Tell us how you started Complete Care Ltd.
After my first business closed, I was consulting for a little bit, offering advice on how to sell on the web. I met another chap called Andy and we set up websites for care associations. Five years ago, we decided to launch Complete Care Shop. I'm very much the web writer, and he's got this brain where he'll read a catalogue of disability goods and remember everything about them all!
That first month we took on hundred and sixty seven pounds, and last month we took just shy of one million pounds. So we built a company up from doing diddly squat to one of the biggest online mobility shops in the country!  We do about 28,000 orders a month and we've got three hundred thousand active email addresses that I target on a regular basis. It's challenging, we employ 47 people; yeah it's fun and I'm totally 'knackered'!
What lessons have you learnt along the way?

I wouldn't try and plan out your life too much, if you've got an idea try and go for it, you've got to accept failure as part of the route to success really. I'm quite glad I failed in that other business now because I wouldn't have gone on to do this other big thing.  I'm learning so much.
You can see Jon's LinkedIn profile by clicking the link here.
---
For more inspiration and stories of success and failure, return to the Startup Stories gallery.
You can also;
Search Inspire Me for news and articles from current students who are making things happen for themselves.
Sign up to the newsletter here to keep up to date with enterprise at Lancaster.
Get in touch and find out what we have to offer to support students, staff and alumni.
If you're a Lancaster alumnus with a story to share, or if you would like to express an interest in mentoring an entrepreneurial student, let us know here.