You can listen to Tom's story by clicking below
'I want to be the billionaire 25 year old, that's my ambition, if I'm a billionaire by 25 I'm sorted.'
Tom Young, Repairly
County College, BA Hons Management and Entrepreneurship, tbc
If you subscribe to our newsletter, you may have read about Tom Young and his trip to Silicon Valley, as well as his admission on to the accelerator scheme, Ignite100 in October last year. Tom was dabbling in the business world long before his University days and he knows what it's like to be a student and a successful entrepreneur. Tom's latest venture Repairly which he co-founded with fellow Lancaster student Fraser Williams has recently been selected as one of 10 startups from around the globe to join the new Virgin Media Accelerator Programme. Together they raised £50,000 to develop the business.
You've pressed pause on your University studies and intercalated to work on your business full time, but what are the benefits of being a student entrepreneur?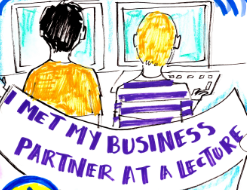 I started a computer science degree and I absolutely hated it.  I then pivoted my studying to Entrepreneurship, which I love. I found people who were relevant to what I'm doing, people who I could speak to, who are interested in the same topics.
At university, you get to meet new people every day. I actually met my co-founder during a lecture. We shared ideas and worked together with a goal to fill the gap in the entrepreneurial tech community on campus. We built a tech community together called The Hive. What I would say is make the most of what your time and the opportunities at university.
How easy is it to launch a tech idea?
We built our company Repairly within twenty four hours.  Within our first week we took over £2,000 of sales, we built a website in a day and just launched it.  That's how fast tech is, you can just get it out there these days, there's so much you can do.
There's something called 'Launch fast, learn fast and fail fast', so essentially launch something absolutely cr** really fast. We built a quick website and had a phone number on it. It didn't look sexy, it was absolutely rubbish and people started using it; if people use it and it's absolutely rubbish then you've got a business.
What lessons have you learnt along the way? What motivates you to keep going?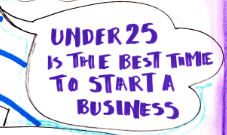 Tech entrepreneurship seems absolutely amazing, it seems fun but I guarantee you now it's not! I am knackered and it is stressful too.  I think the biggest thing that I've learnt over the last year is that the true hustlers are the ones who just get up and do it. When I was at university, I wasn't going out drinking for example, I was busy hustling away to try and do what I want to do.
Fraser and I are both motivated by the mission of becoming one of the biggest brands in the UK to repair your gadgets. With Repairly, we want to be a billion dollar business in the tech industry otherwise we're not going to succeed and we're going to fail and I'll get fired; that's the reality in tech. If you're not a billion dollar business there's no investment and there's no success story.
Who influences you and helps to keep your feet on the ground?
Prior to coming to university I did an apprenticeship and I worked for a guy who was on Channel 4 Secret Millionaire. I worked with him really closely which was great and I built a tech repair centre with him. I think he's the biggest influence in my life. It was absolutely amazing working with him and I'm still in contact. This summer I did an internship with a company called Purple Wi-Fi which is a start up in Manchester which raised £8 million and again the guy who runs that who I was working closely with is another Channel 4 Secret Millionaire. My Dad is a director of the family business; I've got a lot of people around to support me.
You can see Tom's LinkedIn profile here.
---
For more inspiration and stories of success and failure, return to the Startup Stories gallery.
You can also;
Search Inspire Me for news and articles from current students who are making things happen for themselves.
Sign up to the newsletter here to keep up to date with enterprise at Lancaster.
Get in touch and find out what we have to offer to support students, staff and alumni.
If you're a Lancaster alumnus with a story to share, or if you would like to express an interest in mentoring an entrepreneurial student, let us know here.