---
Florence Nightingale Day
Thursday 03 April 2014, 0930-1530
Management School Building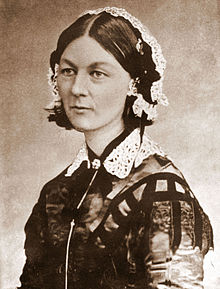 Pictures from the day and the quiz solutions are now online at the Florence Nightingale Day 2014 page.
The Florence Nightingale Day is part of our continuing efforts to promote mathematics and statistics and especially the participation of women in those subjects. The day is aimed especially at female students in year 12 but is open to male students too.
While Florence Nightingale is well-known for her medical work as a nurse, she was also a pioneer in statistics, especially in the use of visualisation of statistical data. A description of this work may be found in her biography on the MacTutor History of Mathematics archive, along with a large number of biographies of other female mathematicians.
The Florence Nightingale Day will showcase successful women in mathematics at various stages of their careers, hear from men supportive of women mathematicians, display information about the broad range of possibilities offered by a degree in mathematics or statistics, stimulate informal discussion between pupils and mathematicians and give an opportunity for participants to compare their mathematical skills with their peers in other schools via a quiz.
The talks, informal discussions and maths gallery will illustrate the broad range of careers offered by a mathematics degree. We hope this will allow participants to obtain answers to their (so far unspoken) questions about a life in mathematics.
The quiz will give students the chance to test and compare their mathematical skills with peers in other schools, working outside the school curriculum. It will also give them valuable practice in solving tricky problems! They'll work in small groups under the supervision of a coach, who will be a PhD student in mathematics or statistics from Lancaster's Department of Mathematics and Statistics.
The day starts at 9:30am and ends at 3:30pm and a programme is below.
For details and pictures of last year's event, please see the 2013 Florence Nightingale Day pages.
Provisional programme
09.30-10.00

Registration

10.00-10.25

Dr Rebecca Killick (Lancaster University)
Renewable Energy - How statistics can help mitigate intermittent generation abstract

10.30-10.55

Dr Vicky Neale (University of Cambridge)
How much do you know about prime numbers? abstract

11.00-11.20

Refreshments

11.20-12.30

Maths QUIZ!

12.30-13.30

Buffet lunch

13.30-13.55

Prof Malcolm MacCallum (Queen Mary, University of London)
Some sums my mother did not tell me about abstract

14.00-14.20

Dr Danielle Bewsher (University of Central Lancashire)

14.25-14.40

Fred Eastham (BAE Systems and STEM Ambassador)
Music, Mathematics and my job in the aviation industry at BAESYSTEMS

14.45-15.00

Quiz results and awarding of prizes

15.00-15.30

Maths gallery

15:30

End
Registration
Teachers are encouraged to register their pupils for the Florence Nightingale Day. Please use the online form linked above. There are no registration fees and support will be available for travel expenses. Refreshments and lunch will be provided. To register or for any other enquiry, please contact Nadia Mazza at n.mazza@lancaster.ac.uk or James Groves at j.groves@lancaster.ac.uk.
Sponsors
We are grateful to the London Mathematical Society, the Further Mathematics Support Programme and the Faculty of Science and Technology at Lancaster University for financial support.