---
Former Lancaster student provides live statistics for BBC's 'Long Live Britain'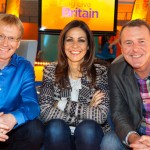 Lancaster Mathematics and Statistics graduate Dr Jennifer Rogers appeared on the recent BBC1 programme "Long Live Britain", shown on 5th August.
The programme was filmed in May at a large public health screening event in Manchester for type 2 diabetes, liver and heart disease. Jennifer, who is now a research fellow at the London School of Health and Tropical Medicine, took part to present the statistics behind the screening results. Jennifer was awarded a BSc in Mathematics with Statistics in 2006 and a MSc in Statistics in 2007 from Lancaster University.
The two-part programme is currently available on the BBC iPlayer: Episode 1, Episode 2.
Mon 05 August 2013