---
Knowledge Partnership to develop enhanced flood modelling techniques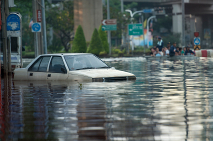 The department has joined forces with the leading environmental and engineering consultancy JBA Consulting to create a Knowledge Transfer Partnership.
The partnership will deliver a project on the development of improved models for extremes of localised and widespread flooding. This will lead to better estimates of flood risk in cities, over large scales and for important infrastructure networks such as railways and roads.
The project will focus on risks caused by a combination of river and surface water floods - where high rates of overland flow, typically associated with intense rain storms, can be particularly damaging in built up areas. Some of the UK's worst floods in recent years have been of this type.
The partnership builds on existing research links between Lancaster University and JBA and will be supported by academics from the Department of Mathematics and Statistics, led by Professor Jonathan Tawn, and the senior management team at JBA. The partnership will also contribute to the work of the JBA Trust through scientific publications and advancing knowledge in this important area of research.
Financial support is provided by the UK's innovation agency, the Technology Strategy Board, to employ a two year postdoctoral researcher to lead this project. The Associate position will be based at JBA's Head Office in Skipton.
Lancaster University's Strategic Partnerships Manager, Dave Gregson, said "Lancaster University is at the forefront of mathematical and statistical research and we are thrilled to be able to apply our experience in order to influence some of the UK's most exciting developments in flood risk management. The link between business and academia is crucial in developing our scientists of the future and promoting the latest research and innovation across commercial environments."
Partners
The Technology Strategy Board is the UK's innovation agency. Its goal is to accelerate economic growth by stimulating and supporting business-led innovation. Sponsored by the Department for Business, Innovation and Skills (BIS), the Technology Strategy Board brings together business, research and the public sector, supporting and accelerating the development of innovative products and services to meet market needs, tackle major societal challenges and help build the future economy. For more information please visit www.innovateuk.org.uk.
Knowledge Transfer Partnerships
KTP or Knowledge Transfer Partnerships (www.ktponline.org.uk) is Europe's leading programme helping businesses to improve their competitiveness by enabling companies to work with higher education or research and technology organisations to obtain knowledge, technology or skills which they consider to be of strategic competitive importance. The UK-wide programme is overseen by the Technology Strategy Board, the UK's innovation agency, and supported by 16 other public sector funding organisations.
Mon 12 May 2014