The Hindu Temple and Modernity:
Devotion, Governance and Aesthetics, 1800-1946
This project was supported by a two-year Leverhulme Research Fellowship (2011-2013). A monograph currently under preparation traces the constitution of a subject, the temple, through the techniques uniquely associated with 'the modern': historicism, photography, archaeological conservation, colonial governance and art history.
Archaeology and Conservation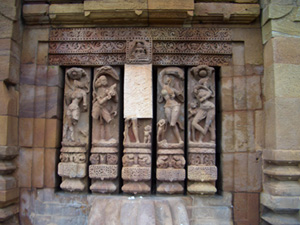 Part of this project explores what happened to temples once they were understood as 'antiquities' after the Ancient Monuments Protection Act was passed in India in 1904. The Hindu temple as a dynamic social and devotional form made an unwilling subject of the restrictions of the conserved space. An article, 'Devotion, antiquity and colonial custody of the Hindu temple in British India' published in Modern Asian Studies explores the conservation of temples in Eastern and Central India in the first thirty years of the twentieth century.
Stella Kramrisch
Stella Kramrisch was an art historian whose two-volume study, The Hindu Temple published in 1946, is central to the art historical evaluation of the temple. Kramrisch worked at Visva Bharati, the university established by Rabindranath Tagore, and the university of Calcutta where, in 1945 she was appointed as Professor of Indian Art History. Kramrisch formulated a radical, if controversial, interpretation of the Hindu temple as a devotional structure; she regarded the elaborately sculptural surface of the temple as the manifestation of the divine energy emanating from the temple's core, the garbha griha. A symposium was held at the Courthauld Institution in December 2012 to bring together scholars interesting in the contexts and meanings of Kramrisch's work. See symposium details»
An edited collection of papers, Divine Artefacts: Stella Kramrisch and Art History in the Twentieth Century, is now being prepared for Oxford University Press, Delhi.
The Kalkaji Temple and Dharamsalas
The Kalkaji Temple in Okhla consists of a complex of shrines, shops and dharamsalas (guesthouses) covering 352 acres in southern Delhi. The shrines and dharamsalas have no monumental façade and are not among the officially curated, listed monuments in the city (or cities) of Delhi. However, embodied in their fabric are the histories of the site's links to the commercial riches of Chandni Chowk in the north; late-Mughal and colonial design motifs; the flow of devotees and migrants from across Gangetic India; the Partition of India (during which refugees were accommodated in the dharamsalas) and the contemporary currents of urban property and poverty.
An audio-visual essay of the temple presents images and sounds recorded at the Kalkaji temple site in the Winter of 2011-2012. This essay is intended to convey a sensory experience of the approach to and central shrine area of the Kalkaji temple complex.
'The Emergent Divine and Devotional Space', a paper presented at the British Academy's Space and Spatiality in South Asia symposium held in February 2013, which discusses the Kalkaji Mandir is available as an audio recording.
A photoessay on the dharamsalas of Kalkaji (coming soon)