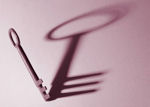 Passwords are important for your security. It is important that they remain a secret. Over time they can leak out. To enhance your security passwords 'expire' after one year.
Password Security
For security reasons, passwords for the Windows network expire one year after they were last changed. After a password has expired it can no longer be used and you will be locked out of your account.
Password Expiry Reminders
ISS provide two password expiry reminder systems:
the 'Safe Guard' systems put up a grey box after users logon to a Windows network computer one month before the current expiry date. This system reminds users every time they logon.
The 'Email Expiry Reminder System' sends all (including non-Windows and remote users) two email reminders prior to the expiry date. The first is currently sent 15 days before the expiry date, and the second 'Final' password expiry warning is sent 3 days before the date of expiry.
For a 'reasonable period' it is possible to change your password AFTER your password has expired.
Change Password - For advice about changing password (including instructions).