About the Software Page
The Software page displays a list of major software used at Lancaster University. The licences for the software packages vary from package to package: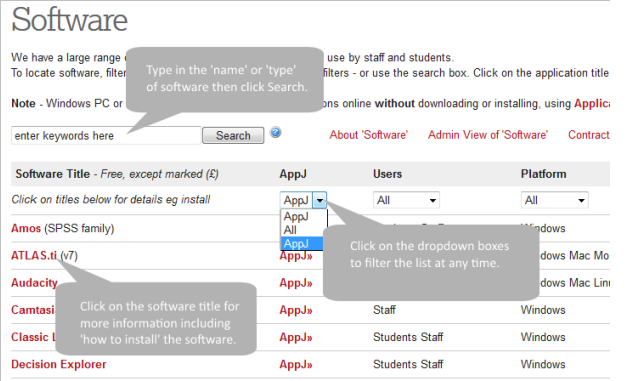 Search
Use 'Search' to look for software. The descriptions of the Software Titles area search using keywords that you supply.
Active Headings
You can use 'drop down' lists in the heading to limit the number of titles displayed.
Software Title - the name of the software package (plus a comment).
AppJ - if 'AppJ showing - you can use Application Jukebox.
Student and/or Staff - indicates if available to Students or Staf or Students & Staff.
Platform - the platform e.g. Windows, Mac, Linux, for which the software is available.
Category - the type of software e.g. Statistical, numerical, Productivity, Utility.
Restricted To - Software is available only to the groups indicated.
Software Titles
Clicking on a 'Software Title', more detailed information about the title:
Licence - details of the type of licence.
Available in/on - details of where the software is available e.g. PC Labs, Support Windows 7 Build.
Install Instructions - if the software is available for installation on persenal computers, a like to a page of install instructions is available.
Licence Codes - if the software requires licence codes a link is provided to a list of codes.
If you have any comment about the 'Software' web pages, please contact Dave Bleasdale - d.bleasdale @ the usual address.