Back to news
Business strategy textbook achieves one million sales
04 December 2012
When Gerry Johnson (Lancaster University Management School) and Kevan Scholes (Sheffield Business School) wrote the first edition of Exploring Corporate Strategy in 1984 no one anticipated that it would quickly become the top-selling Business Strategy textbook in Europe.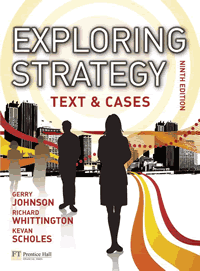 Now in its 9th edition, renamed Exploring Strategy and with a new co-author, Richard Whittington, the book has this year achieved the incredible landmark of one million sales. John Fallon, the newly appointed CEO at Pearson plc, who has closely followed the book's success through his time at the company, described this very impressive and rare achievement by saying:
"Exploring Strategy is a great example of a brilliant author team, working collaboratively with each other and their publisher to ensure that the teaching of strategy remains rigorous, relevant and engaging for generations of students. When you look at how it is evolving the story of strategy, and applying learning technology, there's no reason why it shouldn't be equally as relevant and engaging for the next 1m students."
You might expect the authors of a book on Business Strategy to follow some of their own 'formulae' for success. Exploring Strategy emphasises the importance and relevance of strategy in a wide range of many different markets and sectors with the use of practical examples and case studies.
There is also a concise version of the book – Fundamentals of Strategy – for use on shorter courses. It is now available as an interactive eBook, and the framework of the book has also been used to develop the market-leading strategy simulation - The Strategy Experience - and the e-learning system, MyStrategyLab.
As business has globalised so have sales of the book, and Exploring Strategy is now helping bring strategy to life for students in over 70 countries worldwide, in nine languages.
Authors
is Emeritus Professor of Strategic Management at Lancaster University Management School.
Kevan Scholes is Emeritus Professor of Strategic Management and formerly Director of Sheffield Business School (Sheffield Hallam University).
Richard Whittington is Professor of Strategic Management at Said Business School, University of Oxford.