Programme content
The programme is taught over three terms, with breaks at Christmas and Easter. As illustrated in the diagram, the programme consists of eleven compulsory modules, including a dissertation.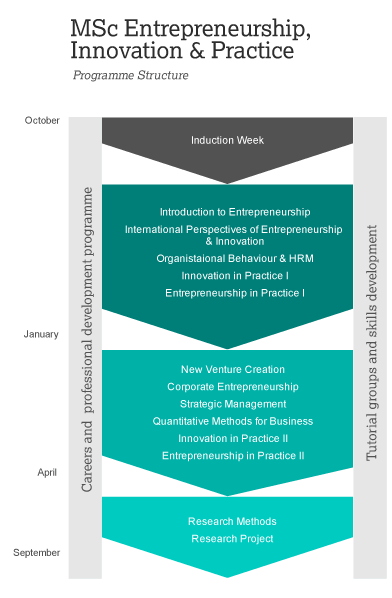 ‌Term 1: October to December
Induction week
The programme begins with an induction week during which you learn more about the various elements of the programme and the facilities available within the School and University. You also take part in teamwork exercises and other activities – academic and social – designed to help you get to know one another before the formal part of the programme.
In the first term, you take the following foundation modules:
Introduction to Entrepreneurship – introduces you to current theory in the fields of entrepreneurship. Topics include, for instance, the role and significance of SMEs for the economy, differences between SMEs and large companies, entrepreneurial behaviour and entrepreneurial learning.
New Venture Creation – introduces the process of conceptualising and preparing for the launch of an entrepreneurial venture. The essential elements and pitfalls surrounding new venture creation will be explored in the context of a business plan. Emphasis is placed on assessing and critiquing the feasibility of business plans. The module also covers essentials of finance and marketing.
Innovation in Practice I – helps you understand the challenges involved in managing the innovation process, especially in the small business environment. You will explore the role of innovation in enabling firms to generate competitive advantage and the problems faced by firms in new product and process development. The module critically examines the impact for innovation on changes in the environment, the significance of the firm's internal processes and resources and particularly why links need to be made between innovation activities and other business activities.
Entrepreneurship in Practice – allows you to engage in our small business development programmes. You will join classes and seminars with practising entrepreneurs, giving you the opportunity to engage in social learning with entrepreneurs as well as extending your networks. Assessments for this module require you to reflect on the application of entrepreneurship theory in practice.
Family Enterprise Management – you learn to manage the unique challenges faced by family enterprises effectively, including topics such as governance, strategy, innovation, leadership succession, lifecycles and temporal family dynamics. The module will be of benefit not only to students with a family business background, but also to those students who are likely find themselves working for a family-owned firm.
Term 2: January to March
The second term consists of six core modules:
Corporate Entrepreneurship – illuminates entrepreneurial strategies of established companies. This includes challenges of setting up and managing corporate spin-offs as well as 'intrapreneurship' strategies where employees are empowered and enabled to act as entrepreneurs within the company in pursuit of competitive edge and new business fields. It also includes strategic renewal and innovation at a corporate level. Moreover, the module will cover essentials of human resource management.
Internationalisation & New Technologies – a module covering two existing topics: How can you commercially exploit new technologies or use them to support your existing business? How can small firms effectively enter foreign markets?
Innovation in Practice II – you will interact with a number of small firms, allowing you to draw on your growing skills in innovation strategy and learn more about how to exploit and evaluate innovation in practice. Through this experience, and via additional case studies, you develop your understanding of why certain organisations are more creative than others, as evident in innovative products, services, processes or strategy. You also gain practical skills in analysing organisations and determining what is required to make them more innovative.
Entrepreneurship in Practice (cont'd) – you will engage in business modelling, either for an entrepreneur in residence, an SME or a large company of your choice. This allows you to apply and reflect knowledge gained in other modules of the programme.
Strategic Management – is about making distinctive choices concerned with the direction and scope of the organisation over the long term. This module focuses primarily on issues related to 'business-level' strategy and how competitive advantage is created and developed in response to complex and turbulent environmental change.
Introduction to Business Analytics – provides an introduction to commonly used statistical and quantitative methods. These include elementary algebra, probability and descriptive statistics, hypothesis testing and modelling techniques. The aim of the module is to equip you with the basic methods necessary for business analysis.
Term 3: April to September
In the last term, you focus on your dissertation project:
Research Methods - prepares you for the independent research you will undertake for your final research project. It introduces you to a range of quantitative and qualitative research techniques, and focuses on both the philosophical and practical issues involved in conducting research.
Research Project – you undertake a sustained piece of independent research which you then write up for your dissertation. The Research Project is the culmination of your studies and allows you to develop a project around your own interests. You can choose between two types of project: a company project which will provide valuable skills and experience for your future career in industry or will allow you to draw up a full business plan for a potential new venture. It can also be a pure research project which could provide the basis for further study at PhD level. In both cases you will have an academic supervisor to guide and advise you on the development of your work.