---
Lancaster Environment Centre Showcase 2014
Various speakers
Thursday 18 September 2014, 1600-1930
Lancaster Environment Centre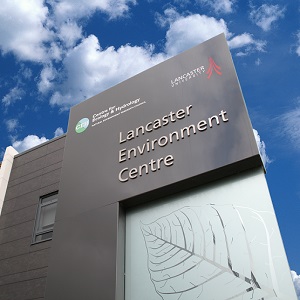 The Lancaster Environment Centre, a vibrant community of over 450 university and government scientists, is opening its doors to visitors. We have invested £35M in our buildings and facilities during the past decade, housed more than 50 companies since 2007, and worked with over 1000 small and medium enterprises (SMEs) since 2005, supporting them with European Regional Development Funds in excess of £18.5M.
Our facilities for business are the best of their kind- our office spaces were highlighted as an exemplar in a government report on universities/businesses interactions (The Witty Review).
If you are interested in engaging with the centre,looking for office space for your company, or want to find out more about our current projects for businesses,come and join us on 18th September from 4pm to 7.30pm.
Hear from our resident environmental businesses how they benefit from being part of our global community, tapping into funding, accessing extra resources, world class expertise and facilities, to give their business a competitive edge.
The event includes meet the experts sessions, exhibits, tours of the facilities, talks from current resident companies, networking and refreshments.
Why base your business in the Environment Centre?
Lancaster University is ranked in the top 10 for interactions with SMEs
Proven track record of success- over 50 businesses housed in LEC since 2007
Flexible bespoke accommodation package with hot desks and rooms for 2 -10 people
Extensive state of the art research laboratories, glass houses and growth rooms
Access to world class research in plant and crop sciences, ecology and conservation, earth sciences, atmospheric sciences, water and soil sciences, environmental chemistry, and society and environment
Business development team to facilitate relationships with our local, nation and global contacts
Specialist programmes to access international markets, e.g. the world's fasted growing economy China
Extra resources from a skilled student intern- free one month internship worth £1320 for the first five companies to sign up to office space
LEC is one of Europe's top environmental research centres, is ranked first in the UK for collaboration with oil and gas and in the top 20 agri-tech and agri-science organisations
Agenda
4.00pm - Registration and refreshments
4.30pm - Welcome -Dr Ruth Alcock, Head of Enterprise and Business Partnerships, LEC
4.40pm - Research at LEC, Professor John Quinton
5.00pm - Talks from one of our co-located Partners- 'Benefits of Co-location'
5.15pm - Networking and refreshments
5.30pm - Meet the Experts sessions
6.00pm - Tour the Facilities
6.30pm - Meet the Experts sessions
7.00pm - Networking
7.30pm - Close
---