---
International Workshop on Self-Organizing Systems 2007
Tue 11 - Thu 13 September 2007
The Lodore Falls Hotel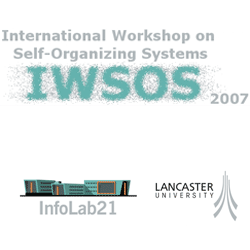 Self-Organizing Systems (SOS) is a new research area exploring the theory and engineering of distributed computing systems that can self-configure, self-manage and self-adapt.
The aims are first to develop systems that have better properties such as high availability, strong security and the ability to evolve, and second to produce a more fundamental understanding of the ways in which future distributed systems may be designed.
IWSOS is an International Workshop series dedicated to these issues. The 2007 workshop, which is being held in the Lake District (http://iwsos.comp.lancs.ac.uk/), focusses on networked systems in particular, and is co-chaired by David Hutchison and Randy Katz.
Associated Links
IWSOS 2007 - The IWSOS Website with timetables and further details
---