---
EuroSSC 2007
Tue 23 - Thu 25 October 2007
Castle Green Hotel, Kendal, Cumbria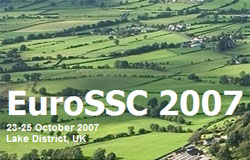 Lancaster University is sponsoring EuroSSC 2007, the 2nd European Conference on Smart Sensing and Context.
The annual conference provides a forum in which to present research results in all areas related to the design, implementation, application and evaluation of smart surroundings involving networked embedded sensing systems and intelligent objects.
Relevant topics include (but are not limited to) the following:
Intelligent sensors & sensor network systems
Context sensing & awareness
Software infrastuctures & platforms
Information aspects of context & sensor systems
Design & engineering methods
Human aspects & interaction methods
Applications, test beds & case studies
Technical Papers will be included in the Conference Proceedings published by Springer-Verlag in the series Lecture Notes in Computer Science (LNCS). The proceedings will also be made available through the digital library.
Keynote Speakers
Dr. John Lefor
European Microsoft Innovation Center (EMIC)
Aachen, Germany Dr. Andrew T. Campbell
Associate Professor of Electrical Engineering
Dartmouth College, USA
Associated Links
EuroSSC2007 - The 2nd European Conference on Smart Sensing and Context
---