---
ICT and Cyber Security Collaborative Impact Event
Wednesday 09 April 2014, 1000-1600
Lancaster University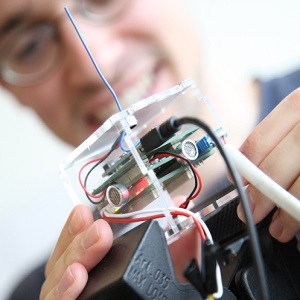 Businesses and researchers are invited to the ICT and Cyber Security Collaborative Impact event on 9th April where they can meet, develop ideas for proposals, and gain advice on how to apply for funding for product development.
Lancaster University has been awarded £600,000 from the Engineering & Physical Sciences Research Council (EPSRC) to support collaboration with researchers and industry and bridge the gap between the lab and the marketplace.
The Impact Acceleration Account provides seed funding of up to £8,000 to explore initial ideas, and more substantial funding of up to £25,000 (to be matched in cash by the external partner) to develop more fully formed concepts into a commercial proposition.
The event will provide the opportunity for researchers and industry to interact and influence each's others research direction and/or business plan that results in an idea that forms the basis of an IAA funded project.
These will be highly participative events and attendance will be limited to ensure time for sufficient interaction between researchers and businesses that result in creative partnerships and an investable proposition. Each event is expected to run between 10am and 4pm with refreshments and lunch provided.
Dee Hennessy will facilitate and utilise her experience of running similar events for EPSRC, NERC, ESRC in addition to dozens of ideation and collaboration events with research communities and business consortia. Also present at each event will be members of the Faculty of Science and Technology Business Partnerships and Enterprise Team who will provide advice and guidance on the collaborative options available through the IAA and other mechanisms (TSB, KTP, CASE Awards etc.).
For businesses and researchers without existing partners but ideas for development, a matching service is available by completing a simple expression of interest.
Lancaster University's expertise in ICT and Cyber Security includes:
Computer systems
Communications and networking
Human-computer interaction
Intelligent systems
Software engineering
Cyber security
Investigative expertise
Security futures
Violence and society
Transport and infrastructure
The ICT and Cyber Security Collaborative Impact event is the second in a series of Collaborative Impact events. The first event focuses on Eco-Innovation and Energy (8th April), and the third event focuses on Quantum Technologies (10th April).
Businesses and academics can register for any/all of the events now at www.lancaster.ac.uk/sci-tech/business/iaa/3rd_call_details.php, email Dr Mark Rushforth m.rushforth@lancaster.ac.uk or call 07964921891.
---