---
Invitation to Go India...
Thursday 29 November 2007, 1600-2130
Stanley House Hotel, Nr Preston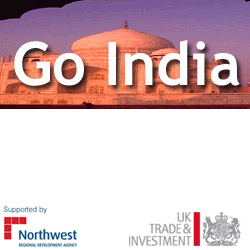 Go India will be a focused workshop event for those businesses actually looking to take the next step and start to trade with India.
India has one of the fastest growing economies in the world - and this event aims to help you and your business be among the growing number of companies tapping into the vast potential for future business.
Guest speakers will be Manoj Ladwa, founder and Chief Executive of MLS Chase Group, Sharon Bamford, CEO of the UK India Business Council (formerly the Indo-British Partnership Network) and a representative from the global networking organisation TiE UK.
The event will give you the opportunity to listen to specialists on the opportunities in India, join in workshops and discussions and network over a buffet dinner with like-minded North West business professionals.
This FREE event has been designed to raise awareness of the lucrative market opportunities for bilateral trade. To secure your free place at this high-profile event, please click here to complete the registration form.
---