---
Technology Matters / Lancaster ICT Cluster Group
Wednesday 09 April 2008, 1600-1900
Meeting Room 4, Conference Centre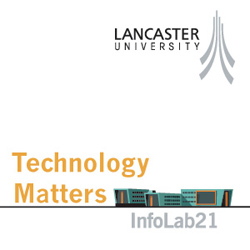 Business Link NW, InfoLab21 and Merit invite you to attend a combined Technology Matters and Lancaster ICT Cluster Group event.
Please note the event is not in InfoLab21 this time due to building works being carried out.
The venue is Lancaster University's Conference Centre, meeting room 4. For directions please see www.lancaster-conferences.co.uk/contact.htm
AGENDA:
4:00pm - Coffee and Registration
4:15pm - Presentation 1 - Paul Blackmore - Director CEEC
CEEC, The University's Centre for Employability, Enterprise and Careers at Lancaster University, provides links and relevant services to connect students and graduates with businesses. The majority of these services are free and with a dedicated Employer Services Team, CEEC is able to help regional and national businesses to:
Attract work-ready students and graduates to help your business grow
Recruit students for flexible, part-time or contract work
Bridge gaps in resources and expertise through student projects
Address Human Resource (& Development) issues such as recruitment, selection and training
Carry out Human Resource activity and related administration by acting as an 'employment agent' if businesses have limited time and resources
Develop their staff's coaching and personal skills by providing 'light touch' mentoring schemes whilst helping students with their careers
Access the research facilities, knowledge and expertise of the university.
Paul Blackmore will provide an overview of these services followed by a regional business and student showcasing their related positive experiences in working with CEEC.
5:00pm - Refreshment break - drinks and sandwiches provided
5:35pm - Introduction to part 2 of the event
5:40pm - Presentation 2 - MERIT - Podcasting for Business & Creative Professionals
The session will be delivered by one of the world's top professional full time podcasters, Don McAllister.
Podcasting is all about the creation and distribution of digital media via the internet to computers, portable devices and even to the TV - this session discusses the technology behind podcasting and explains just how easy and inexpensive it is for individuals or organisations of any size to take advantage of this revolution in digital publishing and new media.
7:00pm - Finish
Register for Free
To register for this Technology Matters event please email Sarah Maginness: s.maginness@lancaster.ac.uk.
---