---
National Science and Engineering Week 2008
Mon 10 - Fri 14 March 2008
Lancaster University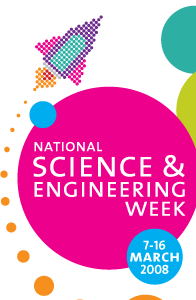 As part of National Science and Engineering Week 2008 Lancaster University are holding a series of activities to promote Science and Technology to school students.
The activities are spread across four day session (approx 10am-3pm) and are aimed at year 10 and 11 students.
Monday 10 March: Lancaster Environment Centre Day - Departments of Geography, Biology and Environmental Science sessions (students attending will be able to attend all 3 sessions)
Wednesday 12 March: Computing and Technology Day - Departments of Computing, Communication Systems and Engineering sessions
Thursday 13 March: Centre of Medical Education - This half day session (9:30-13:00) is designed to let school students experience the range of different settings in which medical students learn at Lancaster University
Friday 14 March: Departments of Physics, Maths and Psychology offering a series of interactive talks and demonstrations
Many of the sessions have specific relevance to the current GCSE curriculum as well as of current media interest. Lancaster's Engineering Department, for example, has a session on The Greenest Way to Travel, while Maths and Statistics have Lara Croft and the Scalar Triple Product and Environmental Science will lead a session on Water Chemistry near a Tungsten Mine.
We hope students will find these sessions both informative and fun, and that they will be encouraged to keep studying science and technology related subjects within school.
If you are a teacher and are interested in sending students to one or more of these sessions please get in touch with Alan Darragh via the SciTech Schools Programme link below.
---