---
Blackpool & Fylde ICT Cluster Group
Wednesday 04 June 2008, 1715-1930
The Solaris Centre, Blackpool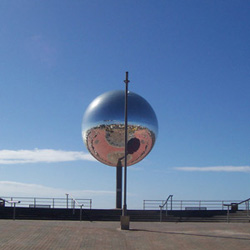 Come and network with other ICT business people, share knowledge and find out about business opportunities in the region.
NOTE: Change of Date from 28th of May to 4th of June.
AGENDA
5.15 to 5.30 (15 mins)
Networking - NOTE EARLIER START TIME!
5.30 to 5.35 (5 mins)
Introduction by guest chair - Ed Christiano.
5.35 to 5.45 (10 mins)
Speaker: Anthony Carr from Blackpool Enterprise Project, 'Social Enterprise in Blackpool'.
5.45 to 6.10 (25 mins)
3 minute intro or announcement from each member. Let group members & visitors know what you or your business needs. Inform everyone of you or your business's unique selling points.
6.10 to 6.30 (20 mins)
Speaker: Peter Stone from OK ID, 'Making the Most of Biometrics Security Systems'.
6.30 to 6.50 (20 mins)
Mac vs PC: For those of you that have never seen Apple's latest operating system in action, this is your chance to experience true computing bliss. Let the battle begin! (Although you will soon see it isn't much of a battle.)
6.50 to 7.00 (10 mins)
Speaker: Peter Legg from Economic Development, Blackpool Council, Introduction of FYC - Digital & Creative Hub for Blackpool and the Fylde.
7.00 to 7.25 (25 mins)
Let's help each other - Each member will be asked to contribute to one or more members based on what they've heard in the presentations. This may only be an offer of advice or a suggested business prospect. Introductions/referrals are even better - but not essential.
7.25 to 7.30 (5 mins)
Discussion of group objectives; AOBs; Announce speaker and his/her topic at next meeting.
Enquires or Directions:
Ed Christiano on 01253 362600 or Angela Hamilton on 07917 001029.
---