---
The Inaugural Doug Shepherd Memorial Lecture: Interactive Data Exploration with Diamond
Tuesday 20 May 2008, 1600-1700
Lecture Theatre 1, Lancaster University Management School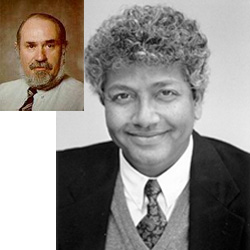 The inaugural Doug Shepherd Memorial Lecture will be given by one of the world's leading experimental computer scientists - Prof Mahadev Satyanarayanan, the Carnegie Group Professor of Computer Science at Carnegie Mellon University.
The lecture will focus on Diamond - a new system for data exploration that is likely to be of interest to a wide cross section of the scientific community. For example, medical and pharmaceutical researchers at the University of Pittsburgh School of Medicine and Merck, Inc. are exploring the use of Diamond to support new research and diagnostic strategies.
The lecture will take place on Tuesday 20th May at 16:00 in the Management School LT1 and will be followed by a cheese and wine reception hosted by the Computing Department.
Satya received a PhD in Computer Science from Carnegie Mellon, after Bachelor's and Master's degrees from the Indian Institute of Technology, Madras. He is a Fellow of the ACM and the IEEE, and was the founding Editor-in-Chief of IEEE Pervasive Computing. From May 2001 to May 2004 he served as the founding director of Intel Research Pittsburgh, one of four university- affiliated research labs established worldwide by Intel to create disruptive information technologies through its Open Collaborative Research model.
---