---
Digital Communications For Intelligent Transport Systems
Thursday 03 July 2008, 0900-1600
BERR Conference Centre, London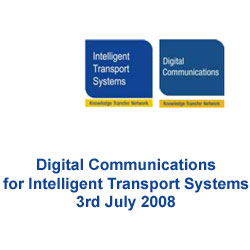 Intelligent Transport Systems (ITS) are poised to transform the way in which the vehicles on our roads are managed.
Such systems are dependent for their operation on the effective exploitation of emerging Digital Communications technologies and networks.
The Intelligent Transport Services and Digital Communications Knowledge Transfer Networks (KTNs) have joined forces to organise a workshop to facilitate the exchange of knowledge between their respective communities.
The aim of the workshop is to bring together industry, academic and government representatives from both communities to explore Digital Communications technologies and networks in the context of emerging ITS applications.
The nature of these applications and the challenges they will place on the capabilities of such technologies and networks will also be examined.
To find out more please read the flyer below or visit the website www.dcktn.org.uk To apply for free registration please email info@dcktn.org.uk
---