---
Hyphen-One: Brand-Opportunity
Wednesday 02 July 2008, 1800-2000
Sandbox, UCLan, Preston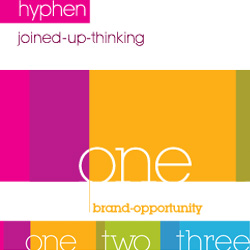 Hyphen One Two Three is a chain of interactive events designed to help creative businesses exploit new technologies.
The first, Hyphen-One, will be focused on brand-opportunity.
Second Life, online gaming, interactive media - what we once called the "business world" is fragmenting into a labyrinth of virtual realms. Hyphen-One will introduce you to the concepts, models - and friends - required to transform these playful spaces into serious business.
Speakers are:
Dom Raban, Corporation Pop
Sean Singleton, Skive
Stuart Nolan, Hex Introduction
Chair: Louise Lynch, Libra TV
Dates
Hyphen-One: Brand-Opportunity is on 2 July.
Hyphen-Two: Digital-Reach is on 23 September.
Hypgen-Three: Innovation-Cash is on 19 November.
For more information, directions and booking details please go to the link below.
Associated Links
---