---
(re)Actor3: Digital Live Art
Friday 03 September 2010, 0900-2359
Holiday Inn & Contemporary Urban Centre, Liverpool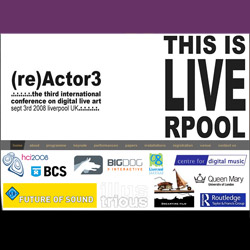 Digital Live Art is the intersection of Human-Computer Interaction (HCI), Live Art and Computing.
re)Actor3: The Third International Conference on Digital Live Art seeks to bring together practitioners and academics from the varying worlds of Live Art, Computing and HCI for a lively debate and after-party event which will explore this emerging field.
The day will consist of keynote presentations, formal papers, interactive installations and demonstrations.
HCI 2008
This year's theme "This is LIVErpool" celebrates with Liverpool as host of Europe's Capital City of Culture and as such (re)Actor3 is co-located with HCI 2008, hosted by Liverpool John Moores University.
HCI 2008 is the premier annual conference on human-computer interaction in Europe attracting hundreds of delegates from dozens of countries - this is where you have to be if you want to mingle with leaders in usabilty, user experience, interaction design, the web, wearables, mobile computing - anything where people act with computers.
InfoLab21 Resident Company BigDog Interactive
InfoLab21 Resident Company BigDog Interactive Ltd, experts in digital interactive installations, have jointly organised the event with HCI 2008 and are also one of its sponsors.
Keynote
(re)Actor3 will open with a keynote address from Martyn Ware. Martyn, the founder member of both The Human League and Heaven 17, is one of the leading figures in electronic music. As record producer and artist has featured on recordings totaling over 50 million sales worldwide during a 27 year career to date, working with Tina Turner, Terence Trent D'Arby, Chaka Khan, Erasure, Marc Almond and Mavis Staples.
Evening After Party
The daytime event will be followed by an exhilarating after party at the Contemporary Urban Centre in Liverpool. Specially commissioned installations, live performances and DJs will be followed by the eclectic and award-winning artists from the Future of Sound.
Programme/ Schedule
A full listing of commissioned performances, installations and papers is available at www.digitalliveart.com
Tickets
Combined Day/Evening tickets £80 available at www.hci.org. Online registration for day tickets closes August 22, 2008
Evening only tickets for "This is LIVErpool" at the CUC - £8 (including booking fee) available at www.skiddle.com
Sponsors
Sponsored by BigDog Interactive, Centre for Digital Music, Queen Mary University of London, Dreamtime Film, Liverpool John Moores University, Routledge. Co-located with HCI 2008.
Jointly organized by BigDog Interactive Ltd. and HCI 2008.
---