---
Technology Matters - Knowledge Transfer Partnerships
Friday 12 September 2008, 0900-1200
Room C74, InfoLab21, Lancaster University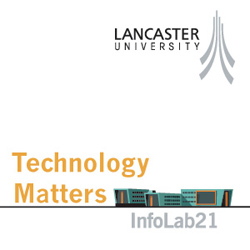 How can a Knowledge Transfer Partnership (KTP) work for you? An event to showcase the Governments premier Knowledge Transfer Programme.
Highlighted in most of the governments' recent economic policy documents (notably the Sainsbury Review and the more recent Innovation Nation) KTPs are seen by many to be Europe's leading programme to help businesses improve their competitiveness and productivity through the better use of the knowledge, technology and skills that reside the UK's further and higher education establishments.
A KTP partnership is generally a 3 year project and has 3 main elements:
A company partner (KTPs supports a broad cross-section of UK firms, regardless of size,
A knowledge-base partner - this is a higher education institution (e.g. university), college or research organisation and
A KTP Associate(s) - one or more high calibre Associates (recently qualified people). The Associate(s) transfer the knowledge the company is seeking into the business via a strategic KTP project.
This event will provide attendees with a chance to hear presentations from all the parties involved in the KTP process. You'll also be able to speak to the two KTP advisors working in our region and hear from two regional SMEs who have carried out recent and successful KTPs (In Touch & Rinicom). In addition to this you'll also have the opportunity to meet and speak to both of the new Heads of Department (Computing and Communication Systems) at InfoLab21 and gain their views and thoughts on the Knowledge Transfer Programme.
If you are interested in the KTP Programme and would like to speak to those who have successfully carried out a KTP or the people who administer the programme this event is not to be missed. By attending this event you'll be able to gain a clear understanding of the programme from both the industry and academic perspectives and also gain valuable introductions to the people who administer the programme at the KTP office and support the programme at InfoLab21.
Event Registration
The schedule for the event is included below and to register for this Technology Matters event please email Nick King on n.king@lancaster.ac.uk Places are limited and will be allocated on a first come first serve basis so please do contact us as soon as possible to reserve your place.
Associated Links
---