---
Lifting the Lid
Thursday 02 October 2008, 1030-1530
Daresbury Science And Innovation Campus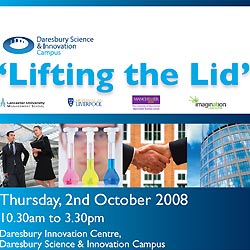 This event is a series of informal, interactive workshops, seminars and one to one surgeries giving attendees the opportunity to understand how the Business/Management Schools can help with business-critical issues facing high-growth, high-tech businesses.
Aim of the Event:
Provide valuable expertise and knowledge to high-tech businesses on crucial business issues
Showcase the capabilities of the Business/Management schools for Science and Technology businesses
Establish some company/school links for further follow-up
Introduce the newly formed collaboration - IDEAS at Daresbury
This event is open to all science and technology businesses, irrespective of their size and location.
To book please download the flyer below which includes a booking form.
---