---
GameJam @InfoLab21
Fri 27 - Sat 28 February 2009
InfoLab21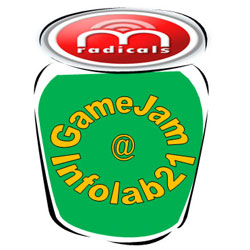 GameJam@InfoLab21 is a 24hr mobile game design competition.
It is the UK heat of the Forum Nokia Mobile Games Competition 2009 for University Students initiated by Forum Nokia and co-organized by the Mobile Radicals at Lancaster University.
This is a chance for students to design new ideas that could shape the future of mobile games. The Competition is open to students from any discipline attending Lancaster University, which is one of the Forum Nokia PRO member Universities participating the Competition.
Why take part?
You'll learn from Nokia Champions about mobile game design in the intro session
Meet people from across the Uni who are into gaming
You could win a Nokia N96 or Nokia 6210 Navigator phone and go through to the next round to win an all expenses paid trip to San Francisco where you'd present your game design at the Game Developers Conference
Pizza and drinks provided on Friday, followed up a slap up breakfast on Saturday
The experience of taking part in the UK heat of a global competition where you could shape the future of mobile gaming-great for your CV.
How to enter
Form a team of 2-3 people, select a team name and choose a Team Leader to represent you in all communications with the organisers.
All teams must register by emailing their entry forms to Dr. Paul Coulton (p.coulton@lancaster.ac.uk)prior to the event starting and must have received confirmation of acceptance to the competition. Places are limited and only confirmed participants will be allowed to enter.
Tips to win!
It is likely that the judges will look favourably on entries that innovate in areas such as
Advanced device features (magnetometers, accelerometers, GPS)
Mashups to web based services
Using the unique capabilities of handsets (messaging, photos, videos, sound etc) User Generated Content (UGC)
Social Networks
Cost: Free!
Event Supported by: InfoLab21, North West Vision + Media, Nokia.
A full GameJam@InfoLab21 Programme and a registration form is available at the link below.
Associated Links
---