---
Mobile VCE: Enabling The 2020 Vision
Friday 20 February 2009, 1300-1645
BERR Conference Centre, London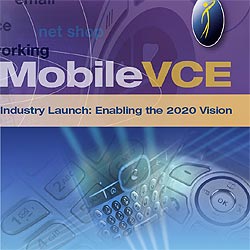 A networking opportunity for companies around the world to learn more about the ICT research which will enable transformation of business processes, commercial models and personal lifestyles.
Mobile VCE is a not-for-profit company, serving a global industry membership comprising leading fixed and mobile operators and manufacturers, in a unique industry-led, long-term, collaboration, harnessing the UK's top University research expertise.
You may register online to attend at www.mobilevce.com/calendar
or by e-mail to events@mobilevce.com
Please see the attached flyer for further details.
Associated Links
---