---
Tech Mission London 2009
Monday 08 June 2009, 1400-2100
Sun Microsystems, London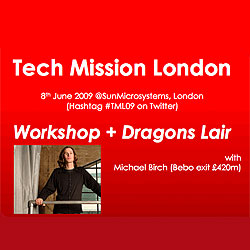 #TechML09 provides a dynamic environment for Northern Tech community (tech entrepreneurs, investors, deal makers and service providers) to engage with their counterparts from London.
Key objectives of this mission are to build new relationships and partnerships, share knowledge and best practices, and explore investment opportunities.
The Mission includes a 3-hour workshop and a Dragon's Lair, where 8 tech startups will pitch up to 6 Dragons. In addition, TechML09 is organised to coincide with Being Digital Conference run by MashupEvent.
Pitching companies will include InfoLab21 resident company 15secondTV.
For more information please go to the link below.
---