---
How To Make Money In The Music Business
Wednesday 02 December 2009, 1800-2300
Ace Centre, Nelson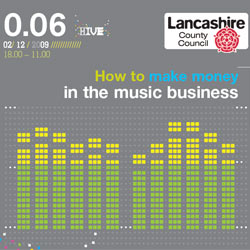 Creative Lancashire would like to invite you to the next Hive networking event.
Hive Network presents 'How to make money in the music business'. This event is aimed at those already working, or aspiring to work, in the music industry and will address some of the current issues for industry professionals.
Please see the attached PDF for further information, list of speakers and registration details.
Associated Links
---