---
How Bad are Bananas?
Mike Berners-Lee, Small World Consulting Ltd
Friday 28 May 2010, 1600-1700
LEC Courtyard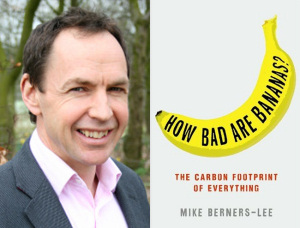 Mike Berners-Lee will be giving a short talk on his new book "How Bad are Bananas? The carbon footprint of everything".
The book covers everything from a text message, through everyday items, to the war in Iraq. There are messages for personal lives, businesses and a few thoughts sprinkled in for policy makers too. Bill Bryson said "I can't remember the last time I read a book that was more fascinating, informative and fun, all at the same time".
Mike will take a few questions but is planning to leave a good bit of time for people to meet, drink in hand, with others from across the university who may share an interest in the multi-disciplinary challenge of climate change. He'll be available for signing copies.
The event is open to all and there will be some light refreshments available. Please email Amanda Faulconbridge (a.faulconbridge@lancaster.ac.uk) if you are attending to help anticipate refreshments.
---