---
ISTEP Workshop - Mobile Application Development
Friday 19 November 2010, 1030-1600
InfoLab21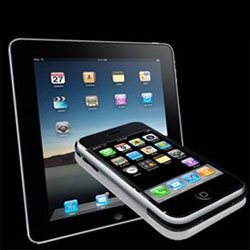 An introduction to iPhone and iPad apps, how to make money from them and then an afternoon introduction on how to make them! Hear from some industry leading experts, our very own Dr Reuben Edwards and Dr Paul Coulton plus some guest from private sector. If you have an idea for an app then you need to attend this session!
Students sign up at:
http://ipadiphone.eventbrite.com/
Companies sign up at:
http://ipadiphonedev.eventbrite.com/
ISTEP at InfoLab21
This event is supported by InfoLab21 as part of ISTEP's regional events programme.
About ISTEP
ISTEP is a project designed to indentify and support interactions between the North West's Digital and Creative industries and InfoLab21's School of Computing and Communications, directly helping businesses to collaborate with the 270+ strong research community at InfoLab21.
ISTEP is delivered under the "Innovation, Advice and Guidance" product, part of the Government's Solutions for Business portfolio, a highly targeted, publically funded suit of products and services offering solutions to real business needs.
---