---
Technology Matters
Saturday 05 December 2009, 0900-1200
Room C74, InfoLab21, Lancaster University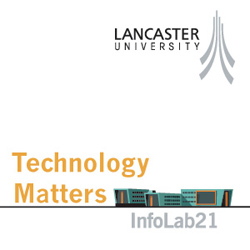 Financing Innovation (Pt 2)
Schedule:
9:00am - Registration Tea and Coffee
9:30am - Introduction (10 mins)
9.40am - Presentation 1 (45 mins)
10.25am - Refreshments Break (20 mins)
10.45am - Presentation 2 (45 mins)
11.30am - Close (5 mins)
11.35am - 12.00 Networking
Presentation 1: Enterprise Ventures - - The RisingStars Growth Fund, Mark Wyatt - Investment Director
The RisingStars Growth Fund 1 (managed by Enterprise Ventures) was launched in March 2002 and since then has been the third most active VC investor in the UK in 2004 and 2005. Enterprise Ventures is an independent Fund Manager, based in the North of England and focused on growth and becoming the leading venture capital firm across the Northern regions. Building on its success, RisingStars Growth Fund 2 was launched in March 2006.
The RisingStars Funds typically invest in seed and early stage technology companies that have the potential to grow into highly successful businesses.
The RisingStars investment team seeks to back ambitious and successful management teams who have the ability to turn unique and leading technologies into world-class products or services that will in time attract customers from around the globe.
In addition to the finance initiatives that Enterprise Ventures manage, they can also provide expertise in assisting companies with their strategic, technical and market development.
For further information, contact the RisingStars investment team at EV on 01772 270570 or visit the Fund's website at www.rsgf.co.uk.
Presentation 2: Robert Sheffrin, Adviser to Northwest Business Angels, the NWDA's business angel network
Following on from our September presentation from the North West Development Agency (NWDA) regarding the business finance solutions funds they administer, we will be joined by Robert Sheffrin who will be looking at investment in innovative technologies or solutions from the perspective of investors themselves.
The Investors' Perspective
Raising funds from a business angel or venture capitalist is sometimes viewed as a mysterious art. It shouldn't be. The presentation will provide a brief introduction to business angels, who they are, what they are looking for and how they operate and a few tips on how to get the money from angels and funds.
Robert Sheffrin
A former venture capital fund manager and bank manager specialising in funding for smaller businesses he trained as a Chartered Accountant with KPMG later working with Deloittes and Ladbroke Group. After participating in an MBO, he established an international consultancy advising funds, companies and professional firms. He is an advisor to a number of funding organisations, a director of Braemar Securities and was President of the Manchester Society of Chartered Accountants in 2006/07.
Registration
To register for this Technology Matters event please email Sarah Maginness: s.maginness@lancaster.ac.uk
Presentations
---