---
SensorNet 2007
Wednesday 30 May 2007, 0900-1700
Lancaster University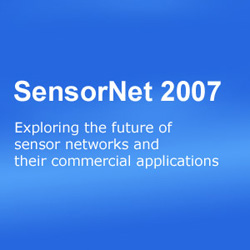 This one day workshop event is to be held at Lancaster University Conference Centre and is aimed at businesses and academics interested in Wireless Sensor Network (WSN) technologies and their commercial applications.
This emerging area of technology is an extremely pervasive area of research and has many current and potential applications such as in environmental monitoring, health, emergency response, manufacturing, traffic management, security, assisted living and intelligent housing etc.
Attendees will enjoy short faculty and industry presentations, panel discussion, and networking opportunities with the aim being to collaborate and explore commercialisation opportunities in this field.
Programme
8.30 - 9.00 Arrival reception
9.00 - 9.30 Keynote Speech by Kevin Warwick, Professor of Cybernetics, Reading University
9.30 - 10.40 Lancaster University Presentations
10.40 - 11.00 Tea & Networking
11.00 - 12.10 Industry Presentations
12.10 - 13.00 Buffet Lunch
13.00 - 14.10 NW Academic Presentations
14.10 - 15.10 Poster and Demo Session
15.10 - 16.10 Panel Discussion
16.10 - 17.00 Discussion on Future Directions
We would be interested to hear from anyone wishing to attend or speak at the event.
Contact Nick King or Colin McLaughlin
Tel: 01524 510443/7
---