---
BIG (Business Innovation for Growth) Conference
Wednesday 02 May 2012, 0930-1700
LICA Building, Lancaster University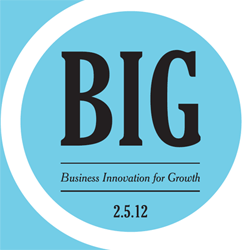 Businesses across the region are being urged to embrace creativity and innovation to achieve business growth at a major conference to be held at Lancaster University.
Organised by Creative Lancashire and the Institute of Directors (IoD), the BIG (Business Innovation for Growth) conference will showcase the latest thinking and excellence in the practical application of innovation.
Up to 150 of the North West's leading decision makers are expected to attend the event, which will feature insights from keynote speaker and Red or Dead founder, Wayne Hemingway, Mat Hunter, CEO at the Design Council, innovation consultant, Michael Bentley, Mahmood Adil, head of innovation at NHS and Bruce Thomas, managing director at social media agency, Modern English.
Edward Matthews-Gentle from Creative Lancashire says why innovation should be a top priority for the region's public and private sector businesses: "By innovating, companies can do more with less, which is always an appealing prospect for industry leaders.
"The ever-changing economic climate brings along with it a number of challenges and businesses need to ensure that they are flexible and prepared to adapt quickly and easily to potential issues or, of course, opportunities.
"The BIG conference will help members of the region's business community to understand where improvements can be made and we are delighted to have secured such high-profile speakers, who we are sure will provide valuable insights into the processes and procedures that have supported their organisations for so long."
Tony Attard OBE, chief executive of Panaz and Chairman of the IoD North West region, added: "It is extremely important to stress that this is not a conference just for creative industries. It is an event based on the 'best practice' of managing innovation through business, which is relevant to all company's operating in the North West."
Places can be reserved for £45 for members/affiliates of Creative Lancashire, the IoD and the Design Council and £60 for non-members. All prices include lunch and are subject to VAT.
To find out more or book a place, visit www.creativelancashire.org or www.iod.com or see the flyer below.
Associated Links
---