---
Brighter Business for Cheshire and Warrington
Monday 10 September 2012, 1600-2000
Chester Racecourse County Stand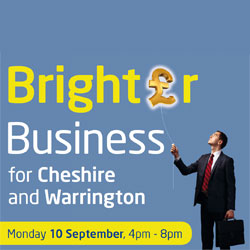 Do you want a bright future for your business?
Are you looking for funding and support?
If so, meet lenders and growth support specialists at a free Business Event showcasing numerous projects from around the North West, including those from InfoLab21, available to Cheshire and Warrington SMEs to help grow their business.
ERDF is being used to stimulate enterprise, support growth, exploit innovation and knowledge, create conditions for sustainable growth and helping to grow employment. Come along to find out how your business can benefit.
Refreshments and Buffet included.
Nick King, Clare Edwards and Samantha Winder from the InfoLab21 Business Development Team will be at the event so please stop at the InfoLab21 stand to say hello and find out more about how InfoLab21 could help your business.
More details are on the attached flyer.
To register please visit the link below.
Associated Links
---