---
E-Collaboration Software Demonstration Workshop for Enterprise
Tuesday 03 July 2007, 1330-1600
Cafe21, InfoLab21, Lancaster University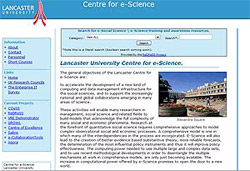 The Lancaster Centre for e-Science, InfoLab21 and Lancaster University Management School would like to invite the decision makers of enterprises to participate in a software demonstration and discussion on the role of web based e-collaboration software in business.
As many will be aware, the internet offers companies the opportunity to gain from the benefits that e-business has to offer. With hi-speed net connectivity comes newer and easier to use software applications that are able to streamline business operations. Much of the 'hoped for acceptance' of this technology among smaller enterprises has not occurred however. Although recent survey evidence conducted at Lancaster University suggests that 76% of organisations in the north of England are now connected to the web using broadband technologies it also suggests that few anticipate taking advantage of the range of new technologies that this hi-speed platform provides. Research shows that large corporations have access to these technologies already but that the specialist technical development that is required to get them installed into smaller companies is either not available or simply too expensive.
Web based software overcomes some of these issues. Firstly, it does not need to be installed onto your computer as it is accessed via a web browser. Due to this, you may be able to access applications from almost any computer that has a broadband connection; keeping you connected to your business data whilst mobile. It also implies that work computers run less software possibly making them more reliable and less prone to technical problems. The advantage of e-collaborative environments is that the costs imposed by geographic distance are considerably reduced; and information flows more freely around your organisation.
We would like to demonstrate a sample of the technologies that are presently in development and gather your views on them. What we ask of you as a participant is to provide us with a critical eye as to the usefulness of the applications both within your enterprise but importantly also, between enterprises. With your views and collaboration we can begin to seek government development funds that would make the deployment of web based software a reality for small and medium sized enterprises in the UK.
If you would be interested in participating in this workshop, or require further information on this new area of research, please contact Alastair Robertson (a.w.robertson@lancaster.ac.uk Tel: 01524 593296).
---