---
BBC to give seminar at Lancaster University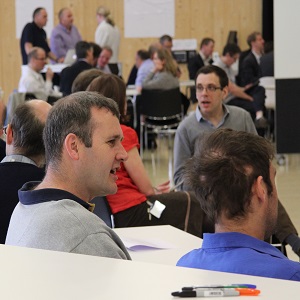 Adrian Woolard, project lead at the BBC's R&D North Lab, will talk about the research challenges the organisation faces and the ways in which Lancaster and BBC have worked together in the past on Wednesday 19 February 2014, 12pm.
Since January 2012, Adrian has been responsible for Connected Studio - a year long innovation program working with BBC Online, its products and underlying platform. More information available at: www.bbcconnectedstudio.co.uk
His research focus is exploring changing relationships between content, audience and technology in the emerging multi-genre & multi-platform environment. He is section lead for the User Experience & Accessibility group, a multi-disciplinary group with expertise in human factors and interaction science. The main work areas are focused on Future User Experience & Formats; Accessible Interfaces; Production Tools & Processes; and Media Accessibility.
Adrian's previous research has been on areas related to new interfaces such as augmented reality, pervasive computing, the growth of participatory media and the potential value of game design to create new forms of education and entertainment.
Businesses, staff and students are welcome to join at 12pm. A networking lunch is available following the seminar.
Fri 24 January 2014
---