---
Touchless technology makes finals of the Bionow 2014 Biomedical Awards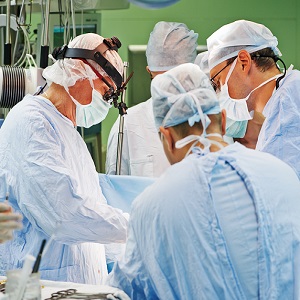 The 2014 Biomedical Awards, now in their 2nd year, celebrate the achievements of biomedical organisations in the North of England, and the strength and depth of the cluster. Lancaster University has made the finals of the Innovation and Technology Award with an entry showcasing pioneering touchless technology for surgery. Sixteen organisations were shortlisted within five categories for the 2014 Biomedical Awards Ceremony.
Increasingly, surgeons rely on the capture, browsing, and manipulation of images to provide a virtual "line of sight" into the body during surgery. Systems that support this are typically driven by keyboard and mouse, presenting a challenge in an environment where the surgical team is required to maintain sterility at all times. Re-scrubbing is time consuming, so surgeons are frequently compelled to instruct others to manipulate visual-aid equipment for them. This can be both cumbersome and imprecise.
To combat this issue, a collaborative team including Dr Mark Rouncefield from the School of Computing and Communications at Lancaster University, Guy's and St Thomas' Hospital, Microsoft Research, and King's College London, piloted touchless technology in the operating theatre that enables surgeons to view, control and manipulate medical images without contact.
The winners of each award category will be announced at the ceremony taking place on Thursday 24 April 2014 at the BALTIC Centre for Contemporary Art on Gateshead Quays. The awards are hosted by Bionow, which supports business growth, competitiveness and innovation within the biomedical and life science sectors across Northern England.
Geoff Davison, CEO of Bionow, said: "The biomedical sector in the North of England is thriving and there is no clearer evidence of this than the outstanding calibre of entrants for the 2014 Biomedical Awards.
"The award entries demonstrated innovative, forward-thinking approaches to research, product development and business strategy, with all of the companies impressing the judges with both their dynamism and their exceptional contributions to the sector.
"The quality, number and variety of award entries was great to see, and the final group of 16 companies are testament to the vast potential of this growing industry."
www.bionow.co.uk/news/2014biomedicalawardsshortlistannounced.asp
Wed 16 April 2014
---